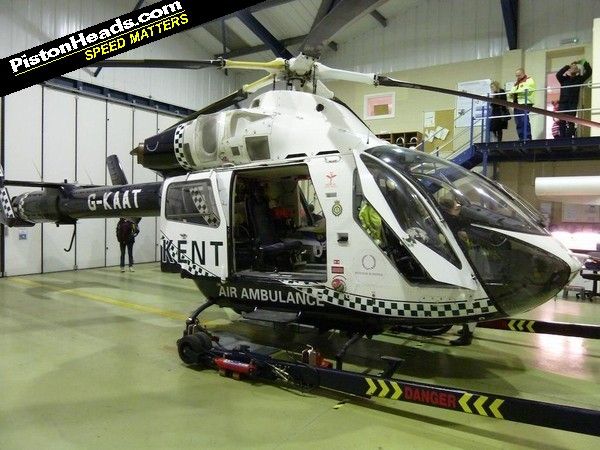 It's the scenario every enthusiastic driver or rider dreads: an accident requiring the attendance of an air ambulance. But being able to fly a specialist medical team directly to the scene of a trauma accident to treat patients prior to transportation has been proven to save lives again and again. And now a ground-breaking step collaboration between the SERV (Service by Emergency Rider Volunteers) blood bikes and the Kent, Surrey & Sussex Air Ambulance aims to further improve this care.
Perhaps contrary to the populist view of air ambulances created by TV documentaries, one of the key activities of the Kent, Surrey & Sussex Air Ambulance in providing a HEMS (Helicopter Emergency Medical Service) is delivering specialist doctors and critical care paramedics to the scenes of accidents so they can provide immediate intervention. Once stabilised, the patient can then be transferred quickly to a specialist hospital. It's estimated that some 30 per cent of the 18,000 trauma deaths per year (25 per cent of which are road traffic collisions) are preventable with such early intervention. What isn't widely known is that no county-based air ambulance yet carries blood on board, meaning that the team is unable to support the patient's circulation in instances of severe blood loss.
This is all set to change early this year when the KSS Air Ambulance becomes the first outside of London to carry blood to allow transfusion at the accident scene. KSS helicopters are not based at hospitals, however, so they need regular replenishment of supplies from local hospital blood banks. Which is where SERV comes in. SERV will take care of the daily transportation of blood from the hospital to the KSS bases, 365 days a year. As we recently reported, SERV provide this service at no cost to the National Health Service through unpaid volunteers on their 'Bloodbikes'. The charity has since become a familiar name to regular PHers thanks in part to the superb work of PHer Of The Year Mel Johnson and the Ali B Memorial Bike.
This significant step up in the volume of runs that SERV Kent carries out means that there is now a need for at least two further bikes on the fleet as well as a couple of Honda CRVs for when conditions make it impossible or dangerous to use the bikes. With this crucial transport link between hospital and air ambulances, it is thought that each aircraft will be able to use blood in up to 50 'Code Red' patient cases each year, ensuring that the patient receives blood significantly earlier than at present.
The equipment necessary to enable the Air Ambulance to take this step forward has been kindly provided by the Henry Surtees Foundation, which was set up by former F1 world champion John Surtees OBE in memory of his son Henry. As you may remember, Henry was tragically killed in a freak accident while driving in the Formula 2 championship at Brands Hatch on 19th July 2009; the KSS Air Ambulance attended the scene.
But the project needs help from PistonHeads, too. As we described in the appeal launch, SERV Kent are raising money to put a 'PH Bloodbike' on the fleet alongside the 'Ali B Memorial Bloodbike'. The additional bike will help ensure that SERV can maintain their existing blood, blood products and emergency medical supplies transport service as well as delivering the vital blood supplies to KSS Air Ambulance. Please donate by visiting the appeal's JustGiving page, or by texting "SERV60 £5" or "SERV60 £10" to 70070.
Nobody wants to have to call on the services of the air ambulance, but enabling them to provide the best possible accident scene care seems to be a no-brainer for any serious petrolhead.