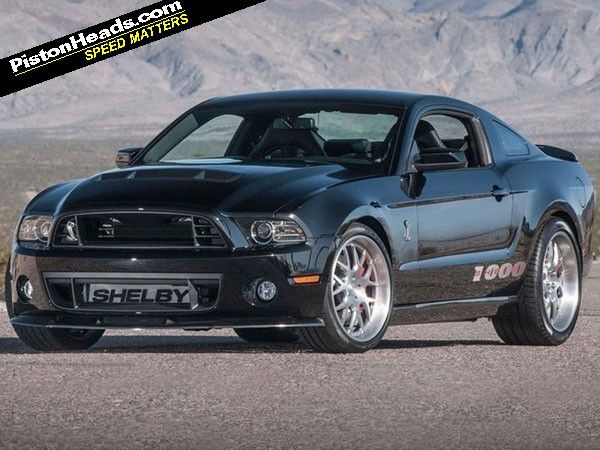 £138,000 is not an insignificant amount of cash. It's especially not an insignificant amount of cash to be spending on a Ford Mustang. But what if that Ford Mustang had 1,200hp?
No, that's not a typo: 1,200hp is correct. That's the power figure generated by the latest tweaked Mustang from Shelby. Suddenly, that price seems almost reasonable, doesn't it?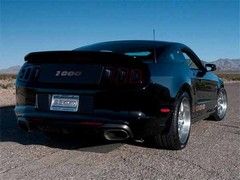 1,200hp. Need we say more?
The new car will make its debut at the New York Motor Show, and it'll be known as the Shelby Mustang GT500 S/C 1000, to give it its full title. It's a complicated name, but for a simple car: take one
GT500
; turn up the wick with the aid of more boost, stronger pistons and rods and an uprated crank; give it better brakes and suspension (albeit still retaining the live axle rear) to cope, and voila. OK, so the conversion process is a little more involved than that, but that's the gist. 100 of these monsters will be made in all, with the S/C 1000 package costing $154,995 (around £102,000) on top of the base $54,995 (around £36,000) sticker price of a GT500. No performance figures have yet been released, but with the stock GT500 being capable of 202mph with half the power, it's going to be capable of some hypercar-rivalling speeds.
Of course, at this point we could be rather dull and point out the issues inherent in transmitting 1,200hp through two teeny rubber contact patches to the tarmac, involving an awful lot of tyre smoke and not a great deal of forward motion, but that would be boring. So we're just going to quietly ignore that, as well as the... erm... tendency toward tail-happiness which is likely to be a trait of the GT500 S/C 1000, and instead revel in the barmy thought of a 1,200hp car that'll be available for £138,000. That means each hp will cost you £115; by comparison, a McLaren P1 will set you back £959/hp, and an Audi R8V10 £214/hp. Quite a bit of bang for your buck, then.