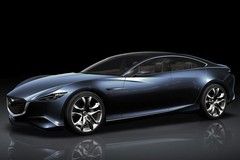 You may not know this but you are looking, we're assured by Mazda, at an example of the 'soul of motion'.
That's the translation for 'Kodo', the name for Mazda's brand-new design language, which will make its debut with this, the Mazda Shinari concept, at the Paris motor show in a few weeks time.
Ikuo Maeda, Mazda's chief designer, has said that the show car's look will form the basis for the next generation of Mazdas.
Neither Maeda nor Mazda have gone into more specific details about the production future of the Shinari, however. On the one hand it could morph into the next Mazda 6 family saloon (yawn). Alternatively, it could become something much sportier - an almost-successor to the RX-8, which has been killed-off by Euro5 emissions regulations (significantly less yawn).
We already know that Maeda is keen on Mazda's sporting heritage - he revealed a few months ago that he wants to bring back the RX-7 - so fingers crossed that the four-door, four-seat Shinari coupe makes it to production as something sporty rather than something saloony.