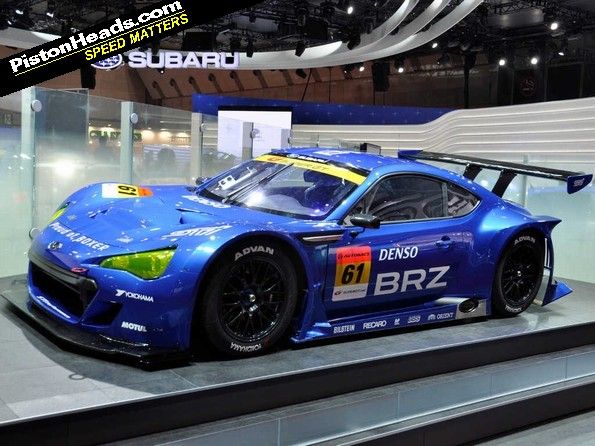 The Subaru BRZ Super GT race car shows Subaru is keen to underscore its motorsport pedigree, as the partnership with Toyota on the GT 86/BRZ development now opens up into direct rivalry.
So, do you fancy Toyota with its huge infrastructure and dealer network? Or, as a red-blooded PHer does Subaru's more down-to-earth approach with a smattering of racer cred appeal more? Call us easily bought, but we'd say it's first blood to Subaru with this awesome-looking BRZ race car, unveiled alongside the civilian version at the Tokyo show.
It'll compete in the GT300 class in the Japanese Super GT series as of next year, competing against a highly competitive line-up of domestic and international rivals. Perhaps it's the whiff of the exotic or maybe we've just spent too long playing Gran Turismo over the years, but there's always been something very cool about Super GT and with this BRZ racer it's just got a bit cooler still.
There's scant official information on the car yet, but as soon as we get it we'll update the story accordingly. It looks the business though and shows some real potential for hotter versions of the BRZ that STI has hinted at with its concept at the recent LA motor show.
GT300 cars are more or less equivalent to FIA GT3 cars, meaning the BRZ will be up against some fairly formidable competition. This class was won last year by a privateer team running a BMW Z4 GT3 but other rivals include the inevitable Porsche 911s, Ferrari F430s, Lamborghini Gallardos, Corvettes and more besides.