shortly to debut at the Tokyo show is, of course, huge news for the iconic Japanese brand. And though it's got a 'proper' boxer engine the move to rear-wheel drive is going to cause some soul searching among traditional Scoobie fans.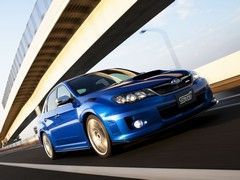 Standard S206 will be limited to 200 examples
Fear not though! Because the age-old 'look at what you could have won' Japanese market-only STI special edition Impreza is still going strong. And the latest, hottest (this week), most extreme version will be sharing the Tokyo show stand with the BRZ.
The S206 is the latest in a line of super hardcore Imprezas following on from the S201 of 2000. This dramatically styled - and that's putting it politely - classic Impreza was of the acquired-taste school of hopped-up Scoobies. Anyone interested in this most eclectic of STIs is in luck too - a fresh import has just landedin the classifieds and represents a brave place to put your £10K.
So what of the S206? Well, it's a little more conventionally styled than the S201 and, like the S and R models that have come between, geared towards true STI geeks. It'll be available on the Japanese market in a strictly limited run of just 300 cars, 100 of which (already sold out) will be NBR Challenge Package versions with a carbon roof, carbon spoiler, BBS wheels and special stickering to celebrate a class win at the 'ring 24 hours earlier in the year.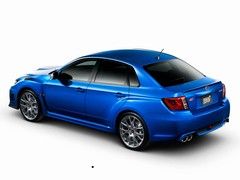 Standard S206 comes without a spoiler...
No news yet of whether there'll be a similar special edition to celebrate the Mark Higgins TT lap record with an
but we're sure it can't be too far behind.
Like previous S models, the S206 is less about all-out power than it is improved handling and response. The STI-prepped engine does get 320hp via a twin-scroll turbo, STI ECU and a unique exhaust for improved mid-range torque and response, but the real work has gone into the chassis. Bilstein dampers running STI springs are just the start, additional bracing across the strut towers matched with 'draw stiffeners' and extra lateral links to improve response. The full spec can be seen below.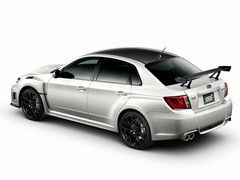 ...while NBR Challenge Package gets aero
The S206 will be joined on the Tokyo stand by a race prepared version of the BRZ, underlining Subaru's intent to be seen as the more hardcore side of the partnership with Toyota that has spawned both this and the FT-86. Prepared by STI, the BRZ racer will compete in next year's Super GT series.
-Mechanism-
STI tuned Bilstein upside down strut and STI coil springs for front suspension
STI tuned Bilstein damper and STI coil springs for rear suspension
S206 BBS designed 19-inch x 8 1/2J forged aluminum wheels (silver)
Michelin Pilot Super Sports 245/35ZR19(93Y) tires
Brembo 6-pot silver colored brake caliper with STI logo and 18-inch 2piece type drilled disk rotors for front brake
Brembo 4-pot silver colored brake caliper with STI logo and 18-inch drilled disk rotors for rear brake
STI designed flexible front strut tower brace
STI designed flexible draw stiffener, front
STI designed flexible support, rear
STI designed support, front kit
STI designed lateral rink with pillow ball bush (front inside, rear inside)
S206 engine balanced with STI
STI designed S206 ECU (Engine Control Unit)
S206 twin scroll ball bearing turbocharger
STI designed S206 sport muffler with lowered back pressure exhaust
Large intercooler with S206 logo
STI designed strengthened silicon intake duct
STI designed air cleaner element
S206 multi mode VDC (Vehicle Dynamics Control)
-Interior-
S206 RECARO designed front bucket seat
S206 seat fabric, ALCANTARA® with black punching / red base, leather seat support (dark gray) with silver stitch
S206 door trim & centered arm rest (black ALCANTARA® with silver stitch)
S206 dark red colored seat belt
S206 silver side sill plate with S206 logo (front)
S206 leather lapped steering wheel with STI logo and silver stitch
STI designed leather shift knob with STI logo and leather shift boot
-Exterior-
S206 large front under spoiler
S206 front fender outlet grille
Aluminum front hood
STI designed trunk lip spoiler
S206 badges on front grille and rear gate
STI designed side garnish with STI logo (black metallic)
-Exclusive for NBR CHALLENGE PACKAGE-
Carbon roof
S206 dry carbon rear spoiler (2 angle adjustable with S206 logo)
BBS designed 19-inch x 8 1/2J cast aluminum wheels (black)
S206 Nürburgring Challenge sticker (rear)
S206 red side sill plate with S206 logo (front)