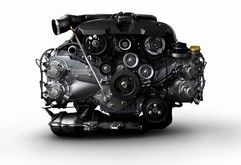 Yes, it's a picture of an engine, which is not ordinarily a cause for particular excitement, but this is the first image of Subaru's new-generation boxer engine - which will start filtering out to its road cars next year with the Forester.
A new Subaru motor is a pretty rare occurrence, too. This is only the third all-new iteration of the firm's boxer motor, the first coming in 1966 and the second with the Legacy in 1989.
The new engine will come in 2.5-litre and 2.0-litre displacements and will, says Subaru's parent company Fuji Heavy industries, improve on both the economy and performance of its forebear by around 10 per cent.