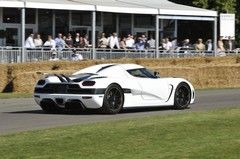 The Koenigsegg Agera on the FoS hill
The Goodwood Supercar Run gave FoS visitors a great chance to see some rare and exotic machinery in action over the weekend - from the UK public debuts of the Ferrari FF (driven over and back from Italy for the occasion) and Lamborghini Aventador LP700-4, to kit that was far more esoteric.
Over 50 cars took part this year (including PH in a blacked-out Panamera Turbo S with a 'Goodwood special' exhaust - woo-hoo!), and many of the cars had not been seen or heard with their wheels turning and exhausts barking in the UK before.
Highlights in no particular order included the Pagani Huayra, Jaguar XKR-S, Marussia B1 and B2 (did we miss them?), Hulme Can Am Spyder, Hennessey Venom GT, and the BAC Mono. The First Glance class was run for what the organisers (or should we say paying exhibitors) deemed to be 'interesting performance cars', and included our Panamera, plus the world debut of the Vauxhall Astra GTC, the Honda CR-Z Mugen, Range Rover Evoque and Citroen Survolt concept.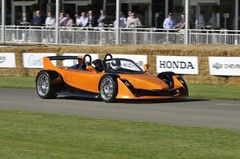 Also 'giving it the beans' to varying degrees up the hill were the Ginetta F400, Porsche 911 GT3 RS 4.0, McLaren 12C, Covini C6W, Bentley Continental Supersports, Volvo Polestar, Noble M600, Koenigsegg Agera R, Bugatti Veyron Super Sport, Ferrari 458, Corvette ZR1 and Aston Martin One-77... well, you get the picture. (And if you've got pics of the ones we missed, do drop them into the thread below.)
Given that you could drool over most of these cars in the paddock, as well as watch them in action, the Supercar Run would almost have made the FoS worth the entry ticket on its own, we reckon.