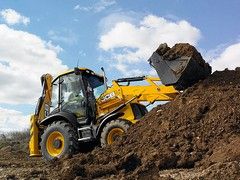 Everybody loves a digger, but until now there's always been one major flaw in a digger's design - the need to get out of the cab when you want a cup of tea.
However, with JCB's new flagship backhoe loader, the 3CX Eco, those pesky trips to Costa will be a thing of the past, because the new JCB has become the world's first digger with an in-cab hot water dispenser.
So, for your £47,500 not only do you get 325lb ft of torque, a bucket volume of 1.3 cubic metres and a lift capacity of 4638kg, but you also get the capacity to make a brew while you're at it. Try doing that in a nearly new BMW M3...
The new JCB 3CX Eco backhoe loader - get it on your Christmas list now, because on PistonHeads, tea matters.