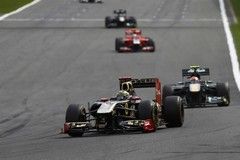 Team Lotus and Lotus Renault GP (that's Renault to thee and me) have finally settled their
long-running dispute over the use of the Lotus name
after F1 bosses agreed that Renault could change the name of its cars to Lotus for 2012.
Team Lotus, meanwhile, will run Caterhams next year (after team owner Tony Fernandes bought out the British sports car company earlier this year) and will change their official name to reflect that.
Oh, and the Virgin team will now officially run Marussia chassis. But you probably don't really care all that much about that...
So remember: Team Lotus, nee Lotus Racing, is now Caterham. And Renault, nee Benetton (or possibly even Toleman), and also called Lotus Renault GP, is now Lotus. Clear? Good...
And whatever the names of the cars lining up on the grid in 2012, at least we won't have two entirely separate teams with Lotus badges and Renault engines...