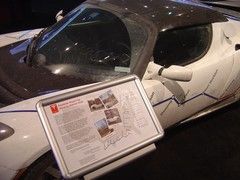 Still wearing the dust and stains from a 3,600 mile drive from Los Angeles to the Detroit motor show, this Tesla roadster has been flying the flag for electric power.
The travel-weary look isn't quite as evocative on an electric runabout as it might be on an unwashed 24hr Le Mans race victor perhaps, but Tesla reckons the drive across America has added extra credibility to its claims that the car is more than a novelty.
18 Tesla employees took part in the marathon, with promotional stop-offs along the way to help raise awareness about electric cars.
"It proves the Roadster is tough, durable, and range anxiety is for the weak", the company now boasts.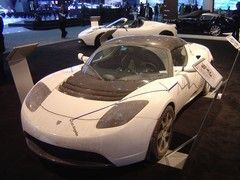 Electric power is looking like a big theme of the Detroit motor show this week, with a selection of battery-powered machines from small builders vying for attention - from wacky city cars to performance-orientated machines like the Tesla.
We'll post a few pictures of some of the sportier lookers later, but with the major industry players also piling into the electric sector with new concepts at the show, you've got to wonder how long the small fry will be able to keep carving out a niche.