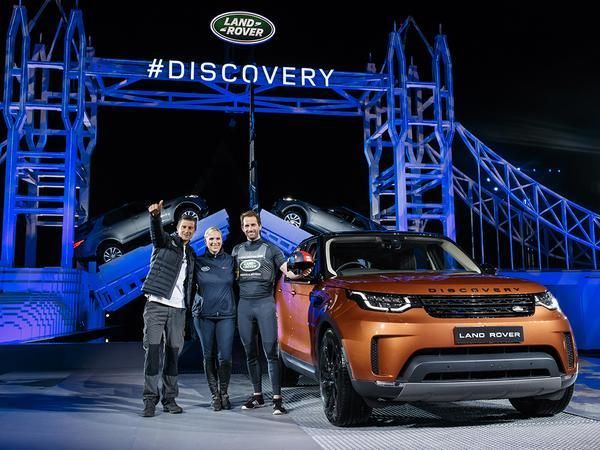 Brand image is everything to carmakers, not least when converging technology and shared components from common suppliers make mainstream cars more and more homogenous. So a lot of money gets spent defining and refining that public profile and hammering home that all-important personality for the product.
Few spend more than Jaguar Land Rover too. The Land Rover side has moved from the green wellies and farm appliance image to something more metropolitan and design-led, while Jaguar has been on a sustained campaign to drop the long-standing 'old man' image and adopt the 'it's good to be bad' Bond villain cool of recent years.
Here we look at eight of JLR's most extravagant stunts and launches of the last few years and pick out those that worked... and a few that didn't.

'#FeelXE'
In 2014 Jaguar launched the XE by flying it beneath a helicopter to a massive launch party at Earls Court - the infamous am-dram history show still causing some of the PH team 'nam-style flashbacks to this day. While this was going on Emeli Sande hollered out a specially written song from a barge in the middle of the Thames, and the Red Arrows were also drafted in just in case the point hadn't already been made this was a big deal.
'Blow the budget' factor: 5/5
Wow factor: 5/5 (not necessarily for the right reasons...)
Cringe factor: 5/5
Hit or miss? Spectacular miss, in every sense

#FeelWimbledon
Just one year later, Jaguar again thrust the XE into the limelight, this time by arranging a PR stunt to celebrate its sponsorship of Wimbledon. Two fans, who had won VIP tickets in a Jaguar competition, were surprised with an XE chauffeured by none other than five-time Wimbledon champion John McEnroe. Not necessarily the temperament you'd want negotiating you through London traffic, they looked happy enough though!
'Blow the budget' factor: 1/5
Wow factor: 2/5
Cringe factor: 1/5
Hit or miss? Hit

XF high-wire
Running with the theme of dangling its new cars over water Jaguar returned to the London skies for the launch of the second generation XF. With Emeli Sande seemingly unavailable this time round a new stunt was devised; a high-wire water crossing. Intended to promote how light the car's aluminium structure is stuntman Jim Dowdall piloted the car high above London's Royal Victoria docks on two 34mm-diameter wires. Because sometimes a simple spec sheet just isn't enough!
'Blow the budget' factor: 3/5
Wow factor: 4/5
Cringe factor: 1/5
Hit or miss? Hit

F-Type
Not content with the public merely observing their antics from a distance, JLR decided to involve them directly at the Big Boys Toys expo in New Zealand. The "Actual Reality" prank seemingly duped several unsuspecting victims into thinking they were entering an F-Type based VR experience, before secretly driving them off the stand and thrashing them around a closed course.
'Blow the budget' factor: 2/5
Wow factor: 5/5
Cringe factor: 0/5
Hit or miss? Definite hit!

F-Pace
To launch the new F-Pace, and celebrate the brand's 80th anniversary, JLR had to go bigger and better still. This took the form of Terry Grant driving the new SUV around a record-breaking, 68ft tall loop at the 2015 Frankfurt Motor Show. The track was erected alongside an equally gigantic number 8, which the eagle-eyed amongst you will have realised spells '80'. Despite some genuine squeaky cheeks on the night when it rained just before the stunt was due to run you'll be relieved to hear that the F-Pace made it all the way around, supposedly "showcasing its lightweight design, agility, sports car speed and performance".
'Blow the budget' factor: 4/5
Wow factor: 5/5 (not necessarily for the right reasons...)
Cringe factor: 2/5
Hit or miss? Hit

Rugby World Cup Land Rover Defender
The PR whirlwind also swept its way across to Jaguar's sister brand, Land Rover, which built a bespoke Defender to transport the Webb Ellis Cup on its 100-day, nationwide tour ahead of the 2015 Rugby World Cup. Having been towed down the Thames in a giant rugby ball the trophy was loaded into the car and taken on its roadtrip. The one-off 4x4 had an illuminated, temperature-controlled cabinet in the back, ensuring the trophy was more comfortable than any Defender passenger before or since.
'Blow the budget' factor: 3/5
Wow factor: 1/5
Cringe factor: 4/5
Hit or miss? Miss

Discovery
With the Defender retired, JLR turned the focus of its PR machine towards the new Discovery. It hired a team of 'Lego expert' for five months to build a 5,805,846 brick, 13-metre high Lego model of Tower Bridge - breaking the Guinness World Record for the largest Lego structure in the process. It was so big in fact that it was able to support the weight of not one, but two of Land Rover's 2,100kg SUVs.
'Blow the budget' factor: 4/5
Wow factor: 5/5
Cringe factor: 0/5
Hit or miss? Hit

Discovery versus Bear Grylls
To demonstrate a key feature of the new Discovery,Land Rover also employed reality TV star Bear Grylls to demonstrate just how simple it is to alter the seating configuration of the Discovery, doing so whilst skydiving with the Royal Navy's Parachute Display Team. Showing off the SUV's Intelligent Seat Fold technology, he transformed the Discovery from a two- to seven-seater layout, enough for him and his airborne pals, all whilst travelling toward the ground at 125 mph. Possibly slightly tenuous it at least wasn't quite as cringey as the video that followed, featuring kids of the design team designing a custom paint scheme. Ick.
'Blow the budget' factor: 2/5
Wow factor: 2/5
Cringe factor: 4/5
Hit or miss? Miss