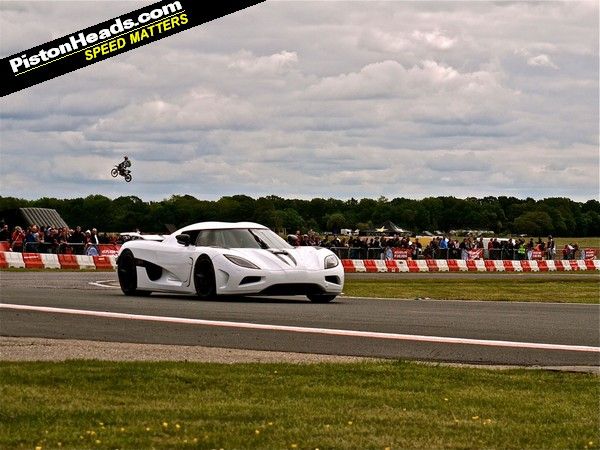 How does a day out riding around in supercars sound? Pretty good, no? And what if it was all in aid of an exceptionally good cause, too? Even better, right? Well, we've got good news:
The Supercar Event
offers all this and then some. This fantastic weekend of motorised thrills, formerly known as Dad's Day Out, will be back again in 2013, raising money for
The Children's Trust
.  
Held on June 15-16 2013 – Father's Day weekend – the premise of this event is simple. Take your pick from the vast selection of supercars that'll be on display, pay your money, and get taken for a high-speed spin around the track at Dunsfold Park. You can go out in as many or as few cars as you fancy, or just revel in the chance to see so many supercars in one place, being driven to within an inch of their life out on track!
That isn't all, though – you can also take your pick from drifting Caterham rides, helicopter flights, an Autosolo experience in your own car, rides with Sporting Bears Motor Club members in their cars, hovercraft rides, Routemaster bus rides, skid control lessons, and even rides in a real fire engine – sure to go down well with the kids! And all revenues raised on the day will go towards helping children with multiple disabilities and acquired brain injuries. It's a win-win situation!
The best news of all is that, as a PH reader, you're entitled to a selection of special discounts. For starters, you can get yourself a Car Club ticket that entitles you to entry for a car and four people for the day for £10, or for the weekend for £15 – the same prices as non-member advance tickets for just one adult! What's more, the Sporting Bears have announced that they'll give PH members the chance to join in and offer rides in their own cars around their specially pre-selected routes. In addition to all this, you get to park in a special club members' car park that's closer to the event than the public car parks. And between 9am and 10am, you'll also get a £5 discount on every supercar ride.
To book your entrance tickets, visit the special website that's been set up by The Children's Trust, and if you want to book your supercar rides in advance, you can do that too here.  Enjoy!