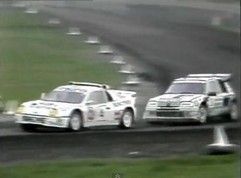 The appeal of today's Time for Tea? video can be summarised in very few words. Rallycross should of course pique some interest, especially taking place at Lydden Hill. The year 1987 gives it some nostalgic appeal. The cars? Two Ford RS200s, a Peugeot 205 T16 and a Metro 6R4.
For those who haven't already scrolled straight to the video, it makes for hugely exciting motorsport. There are spectacularly fast launches when the lights go out, oversteer, flames on the overrun, and a last-second swap for the lead. All this, of course, takes place in one intense sprint race, a refreshing antidote to the drawn-out affairs found in other motorsports.
So, where's the TV coverage now? ITV4 dedicates whole Sunday afternoons to the BTCC and its support races whilst also showing DTM highlights on Saturday mornings, so clearly the demand and capacity for motorsport is there. Moreover, with conventional rallying at present struggling for TV viewers, could rallycross perhaps raise its profile by using recent WRC/IRC cars? On top of all that, there's the simple appeal in rallycross of seeing cars race on gravel and tarmac against each other rather than just the clock. Rather than just seeing rallying on one corner, you get a whole circuit.
But maybe that campaign is for another day. For now, we'll have to be content with a YouTube archive of classic races with some iconic cars. If one clip becomes half a dozen, PistonHeads cannot be held responsible! Enjoy the video.