Just how exciting can some scanned in race results be? Well, going by the number of dropped jaws when this was spotted in the PH offices quite a lot. So we thought we'd share them with you.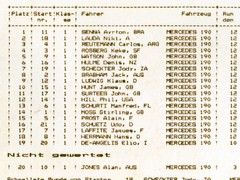 Worth a closer look - unbelievable!
It dates from May 12 1984 and the opening of the new Nurburgring GP track. This coincided with the launch of the Mercedes 190E 2.3-16, perhaps the most un-Mercedes car ever to bear a three-pointed star. Bear in mind most Mercs of the era still had lashings of chrome and velour. And still make Garlick come over a bit funny. This one had a bodykit and a high revving 16-valve four-cylinder tweaked, famously, by Cosworth.
Car and track met in memorable style with a Nurburgring Champions Mercedes-Benz Cup. The weather was filthy, the track barely finished and bordered by mud. Hardly anyone was apparently there to watch. Which is criminal when you look at the list of names on the sheet. Pretty much any F1 driver of note and alive in 1984 was there. So you had Moss versus Hunt. Phil Hill and Jack Brabham. Jody Scheckter and Keke Rosberg. And two young upstarts, one called Prost and another called Senna.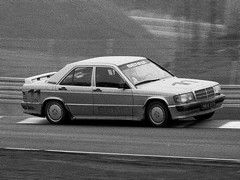 Senna used all the new track and more
The printout alone tells an amazing story and is worth studying in detail. Scheckter was clearly on a flier and was the only one to break into the 2:12s but didn't get near the podium. Old dog Jack Brabham was faster than Prost, De-Angelis, Hunt and many others. Carlos Reutemann beat the lot and was on the podium. Niki Lauda, the man whose terrible accident inspired the building of the new circuit, was in second. But at the top, having beaten quite possibly the most incredible field of drivers ever assembled in one place, was a young Brazilian. Senna. You may have heard of him.
And having gazed at the time sheet it's worth a look at this video too. In conditions more akin to rallycross than saloon car racing Senna dominated - check out John Surtees' assessment. Enzo should have listened.