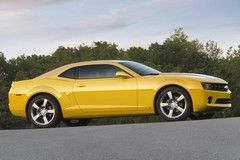 With fuel prices sky-high, more and more electric and hybrid cars heading to dealers, and ever-increasing pressure on car makers to bring down their CO2 outputs, General Motors clearly has its finger on the pulse, announcing the official introduction of, er, the 6.2-litre V8 Chevrolet Camaro to the UK market. Brilliant.
The fully type-approved, euro-spec Camaros, will be in showrooms from early 2012, and Chevy has today announced that its beefy coupe will be available from £34,995, with the convertible version costing £39,995.
All UK cars will be the top-spec model, which means (as well 426bhp) 20-inch alloy wheels, Brembo performance brakes, full leather upholstery with a six-way electrically adjustable driver's seat, a Boston Acoustics nine-speaker audio system, Bluetooth and rear parking sensors (which, given its size, you might find useful).
Options will include a choice of 'premium' paint colours, bonnet stripes, interior trim accents, a sunroof, polished alloy wheels and automatic transmission.
The only fly in the ointment is that there's no right-hand drive. But when it looks this good, do you really care? Especially when the VXR8 costs near-enough £50k...