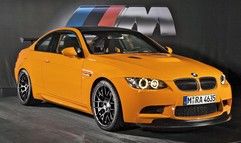 BMW has released footage of its new M3 GTS making its track debut at the Ascari Race Resort.
The BMW M3 GTS is produced at the BMW M GmbH manufacturing facility in Germany. It gets a larger and more powerful V8 engine - 4.4 litres, making 444bhp - revised management for the 7-speed dual clutch transmission and modified suspension. The car has also been optimised with regard to aerodynamics and lightweight construction, and looks stunning in the only available colour, vivid orange.
Conceived as a 'club sport' version of the M3, the GTS is likely to be the current model's swansong, as there'll be a new M3 in 2012.
Only 150 will be built, and all have been pre-sold at a cost of £116,500. We're not sure how many are coming to the UK, but if you've got one ordered do let us know.
Meanwhile, stay tuned for our driving story on this fabulous new BMW soon...