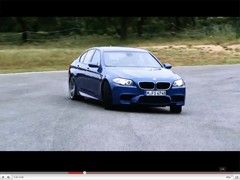 Here's BMW's latest promo video, this time giving us a little tease of the M5 in motion.
Sadly it is rather short, but it does at least whet our appetites for what we hope will be a spectacularly good fast saloon.
It certainly looks and sounds the part - from the briefest of brief audio glimpses of that V8 soundtrack, it seems as if the turbochargers don't muffle the V8's voice entirely.
Mercifully, the American movie trailer voiceover guy used in previous BMW videos is nowhere to be heard, either.