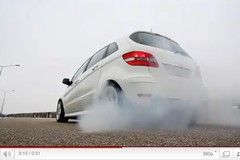 Those who can remember a time before the endless days of feasting upon turkey may recall the
bonkers V8 Mercedes B-class that we showed you
, created by a fine group of petrolheads-in-training at Merc's Rastatt factory.
Now, to prove that their so-called B55 - an intriguing amalgam of humdrum shopping trolley and 5.5-litre V8 glued together with bits and bobs of Mercs past - really is the real deal, Mercedes has released a tantalisingly short clip of the Big-hearted B-class in action.
We would have, of course, preferred something a little more involved, possibly involving a certain circuit somewhere in the Eifel Mountains, but at least a spot of burning rubber and an '11' on the Tarmac do prove the B55's rear-drive credentials.
Oh, and Mercedes - if you're stuck for somebody to take it for a spin around the Nurburgring, you know who to call...