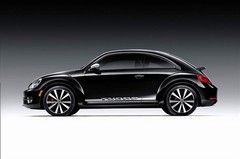 A hot Volkswagen Beetle R could be presented to the world as soon as the Frankfurt motor show this September, according to US mag
Car & Driver
.
Apparently, the Beetle R will get front-wheel drive, much like the Scirocco R. It is expected to be a little down on power compared with the Scirocco R, however, with a 237bhp turbocharged 2.0-litre four-pot playing the Scirocco's 261bhp.
That is, however, a significant jump over the 197bhp 2.0 TFSI motor in the Beetle Turbo, which is the fastest Beetle motor for now (and features in the US-only Volkswagen Beetle Black Turbo Launch Edition that you see in the picture).
C&D also surmises that a convertible Beetle R is a possibility, but points out that VW is as yet unsure whether or not there is a market for a car of this sort...