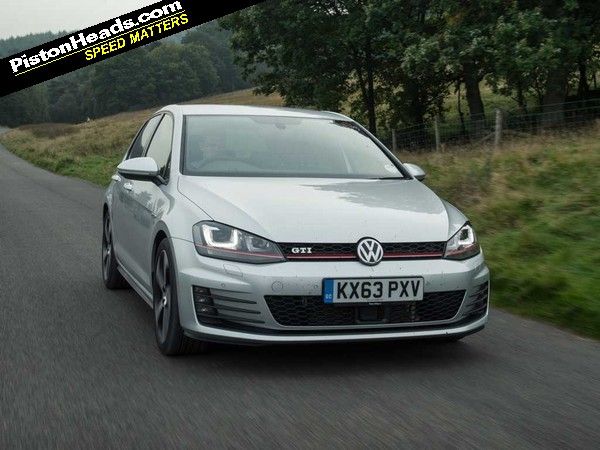 You can write the script from here. We say: fast, quietly stylish, well screwed together, possibly a bit conservative but all round the thinking man's everyday performance car. You say: nice but dull, thirstier and more expensive to run than hacks ever make out, boring to look at, how much are VW paying you say this, etc, etc…
Warmed up yet? Because it's business as usual. The Golf is fab.
Despite giving up 90hp to the BMW and a staggering 130hp to the A45 on the road the GTI Performance equipped Golf demonstrates the gulf between spec sheets and usable performance. Rarely on our B-road blast across Yorkshire and the Peak District was the Golf left wanting for pace, no matter what the numbers might suggest.
The Focus ST and Megane 265 Renaultsport both recently run on the PH Fleet would seem more natural rivals to the Golf. And in spirit and performance it sits somewhere between the two, more aggressive and on its toes than the Focus and with just a whiff of the Megane's hardcore balance, albeit dialled back just a tad in keeping with the more conservative family values.
The GTI does a good job of convincing those that accuse it of being boring as being correct. The extra power of the GTI Performance pack is welcome and that VAQ 'limited-slip diff' is unique tech that, unless you're willing to push beyond what most would consider reasonable limits, remains more or less in the background.
The Golf's real talent – derived from that diff – only really comes at the point most sensible folk would be backing off. At eight tenths it's competent. At nine balanced and safe. And just at the point where you enter a corner a bit hot, feel the front begin to wash wide and think 'OK, I'll back off…' you need to dig in and floor it. It's totally counter intuitive, especially in a granny pants Golf. But after a momentary pause it composes itself and pulls itself tighter into the bend, fancy multi-link rear axle more than able to cope. A bit too well, the Megane's more proactive mechanical diff and reactive rear axle making for a faster, more adjustable experience.
Write the Golf off as boring and inert at your peril though.
Like the AMG, you need to push beyond and then it really shows its class and talent. And with the choice of three or five doors, manual or dual-clutch and a significantly cheaper base price in all but raw power it's a tough marker for the others to beat.
And tarted up hatch or not, it's also just, well, nice. Conservative but quietly stylish (tick those boxes in your GTI review bingo) with some lovely and thoughtful detailing that'll do the feelgood factors better than any direct rivals. And put it in with a shout of competing with these two heavyweights.

---
Introduction and comments
Volkswagen Golf GTI Performance
BMW M135i
Mercedes A45 AMG
Verdict

---
VOLKSWAGEN GOLF GTI PERFORMANCE 
Engine: 1,984cc 4-cyl turbocharged
Transmission: 6-speed manual, front-wheel drive, limited-slip differential
Power (hp): 230@4,700rpm
Torque (lb ft): 258@1,500-4,400rpm
0-62mph: 6.4sec
Top speed: 155mph
Weight: 1,351kg
MPG: 47.1mpg (NEDC combined)
CO2: 139g/km 
Price: £27,480 (before options)

---
Further reading...
BMW M135i vs ... the world!
BMW M135i vs Toyota GT86
BMW M135i vs Porsche Cayman 2.7
BMW M135i vs Renaultsport Megane 265
BMW M135i vs Audi S3
BMW M135i vs used Porsche 911 Carrera
Photos: PrimeExposures