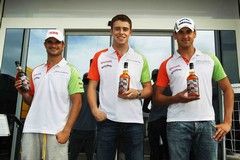 Wondered why Force India drivers Adrian Sutil and Vitantonio Liuzzi only finished in 8th and 11th places in the British GP the other weekend? Well, neither did we, actually - it was a respectable finish and indicative of the teams current form.
But if the Force India drivers do seem a little off the pace over the next few races, it might just be the fault of team sponsors Whyte & Mackay whisky. Master blender Richard Paterson has created three blends specifically for the Force India drivers - one for each of the racers and one for Scottish test driver Paul Di Resta.
So if you've ever wondered what an F1 driver would taste like if turned into a whisky (and we know you have), you're finally about to find out, and in Mr Paterson's own words:
"I met Paul Di Resta at the press conference to announce his involvement with the team and I was lucky to spend some time with him afterwards in my sample room," says Richard. "Having got to know him I have created a whisky that is a little shy at first on the nose but behind the shyness there is a full bodied explosion brought about by the highland malts I have used in this blend, giving it great strength and backbone."
Good stuff, but what about Mr Sutil? "Adrian is clearly a strong willed and meticulous character who carefully plans his races to the last detail. However his skills as a concert pianist (did not know that - Riggers) demonstrate another less well known side. That of the artist; creative, dramatic, passionate.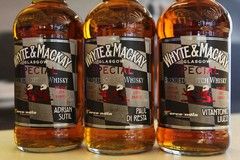 "Instantly I was drawn to his bold character and for this blend I have selected whiskies as old as 25 years from the four distilling regions of Scotland.
Although this blend has a great complexity to it, a great harmony prevails with beautiful mellow flavours coming through to reward the palate.
And finally Liuzzi: "For Vitantonio I have created something which reflects his lively Italian personality and celebrates his first full season in the race seat. This blend is not one for sipping and savouring but is one for pure enjoyment and pleasure with the rest of the team.
"Needing single malts with a little extra vibrancy, I called upon a great selection from Islay and Jura which were intricately woven together to allow the peat smoke to harmonise."
So now you know. Barman? Another double Liuzzi on the rocks, please...