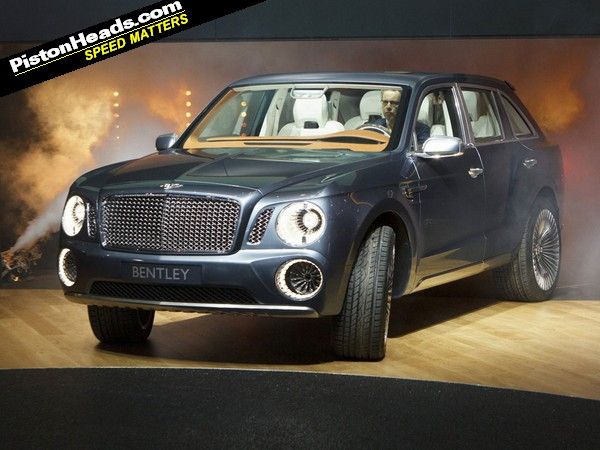 It would be fair to say Bentley
got a bit of stick for its SUV on here,
culminating in one poster comparing the unlovely rear end to that of a Maestro.
The designers might be sent away for some intensive silk-purse manufacturing, but one thing's for certain: Bentley will build a production version of the 12-cylinder EXP 9 F.
PistonHeads was told exactly that by a board member for company, engineering head Rolf Frech. As he explained, it's all about sales balance. Bentley has only two model lines in the Continental and Mulsanne range, and when they get older sales begin to dip. Insert another car half way through their life cycle and the sales even out.
"We think the SUV is the right car to get that balance," Frech told Pistonheads.
He knows this because, like his boss Wolfgang Durheimer, he comes from Porsche. "We had the same situation there. We only had the sports cars, then we brought out the Cayenne and suddenly we had this balance," he said.
The Cayenne has become the poster child for specialist car companies to reference when justifying veering off into SUV making. Last year in Europe Porsche sold just over 18,000 of them compared to around 11,500 of the 911, making it the company's biggest seller. Even more tempting than Europe for makers is China, where last year 1.59 million SUVs were bought. Back in 2006 there were just 370,000 sold over there. So important is China for Bentley that in the first two months of this year, just over a third of all its cars were sold there.
The luxury SUV bandwagon keeps on rolling, with Lamborghini launching is SUV concept at the Beijing motor show next month and Maserati hard at work turning its Kubang concept into reality for sales in 2013. And lesser makers know that SUVs are an extremely bankable proposition. Here's a not very difficult question: what unites Porsche with Nissan, Subaru, Infiniti, Mitsubishi and Volvo? Answer: all had an SUV as their biggest seller in Europe last year. Some companies would keel over and die without them.
Nissan sold an amazing 217,000 of its Sunderland-built Qashqai last year throughout Europe, over double its second best seller, the Juke micro-SUV. The Mitsubishi ASX sold nearly double the company's next biggest seller, while the Volvo XC60 and Subaru Forester topped their companies' sales leader boards.
And now we have Bentley. When it does get built, let's hope the Crewe boffins chalk Experimental 9 up to experience and produce something looking a little less like Frankenstein's monster.