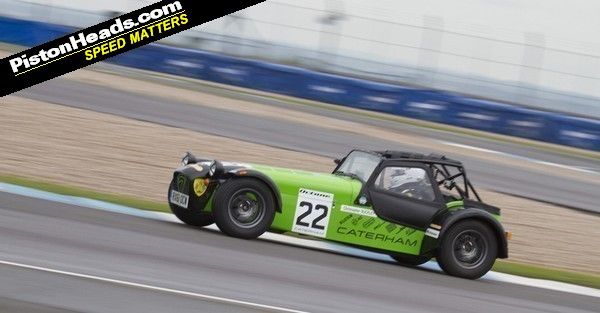 We all want to be a racing driver, don't we? We're pretty handy on a track day, we're not too shabby on the B-roads, we criticise the F1 racers from the sofa and our lap time around the local ring-road is pretty respectable.
Actual racing is something different, mind you. We all think we can, but not so many of us get the chance. A year or so ago, though, Riggers headed off to the Caterham Academy and raced on behalf of PistonHeads. To say he enjoyed the experience would be an understatement; the bloke talked of nothing else, and he didn't do too badly, either.
Now it's your turn. If you've ever fancied taking part in the Academy, we're offering you the chance to race in the 2013 series. We'll pick up the entry fee, and you'll even get to drive the car on the road for the year too. As we type, a green Caterham Academy car is awaiting PistonHeads racing livery and a driver name; it'll even be on show on the Caterham stand within Autosport International, taking place at the Birmingham NEC on the 10th – 13th January.
If you win, we'll take care of the £25,000 entry fee, and the road-legal but fully race-prepared Caterham will be ready for collection at Caterham HQ, kitted out with all you need to pass scrutineering at the track. That's the easy part. The hard work will then begin. Your journey to becoming a racing driver includes:
Entry into the Caterham Academy (including car) worth £25,000
Passing your ARDS test and gaining your racing licence
Gaining experience and tuition on track to get the confidence levels up
Competing in 7-rounds throughout the year, across the country
Writing a race report for PistonHeads.com after each event
We need to stress a few points before we carry on, as while we are covering entry, and providing the car with full road insurance from Adrian Flux for the lucky winner, there are expense and time commitments the winner needs to be aware of and agree to.
The car is insured for road use only; track insurance needs to be sourced
Racewear, helmets and other safety equipment are not included
You will need to attend practise sessions and all 7 race meets; events can't be skipped.
Damage to the car (along with replacement tyres) is not included
Travel costs to race venues, and accommodation, are at the winners expense
This is an amateur championship that is only open to non-race licence holders.
Racing is a game that requires commitment and passion, but if you've got both of those things, you'll love the Academy. Not only will you be competing for your own glory, you'll also be carrying the PistonHeads name on the car, so we'll all be rooting for you too.
If you've got to this stage and feel you have the commitment and skills required, you'll be asking how you win this prize. As a racing enthusiast, you are probably already planning a visit to Autosport International, and all you need to do to be in with a chance of winning a season of racing is to buy a ticket to the Performance Car Show or Autosport International (£33.00 including booking fee, see links below), submit the ticket code to the entry website, and answer a few questions.
If you need convincing to attend, may we suggest a quick look at this website for more details? We'd also remind you that you can visit the PH team on our stand within the Performance Car Show hall. If you have already purchased a ticket you are already eligible to enter.
A shortlist of ten finalists will be chosen, and they'll join us at the Caterham F1 HQ for a full briefing on the Academy series before undertaking a series of driving tests throughout the day. The winner of the driving heats will be declared the overall winner, and will get the car and the 2013 Academy drive.
To enter the competition click this link
Competition closes at midnight January 13th 2013.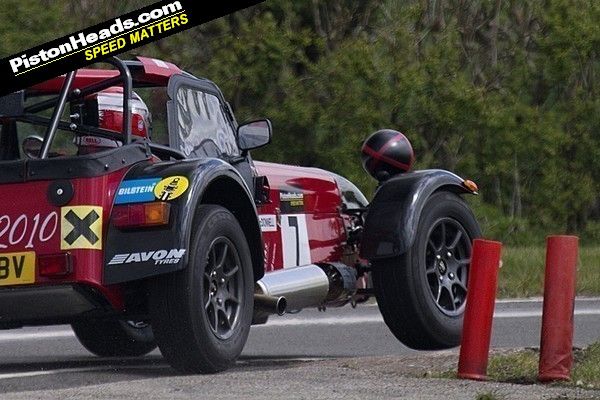 ---
Before you enter, it's worth reading the full terms and conditions, as there are a lot of rules and regulations that go with a prize of this nature. We urge you to be fully aware of what you are entering into. To read them please click this link
---
For further details regarding Autosport International please click here
To purchase Autosport International tickets please click here
To Purchase Performance Car Show tickets please click here
To read some of Riggers' racing tales please take a look at these links