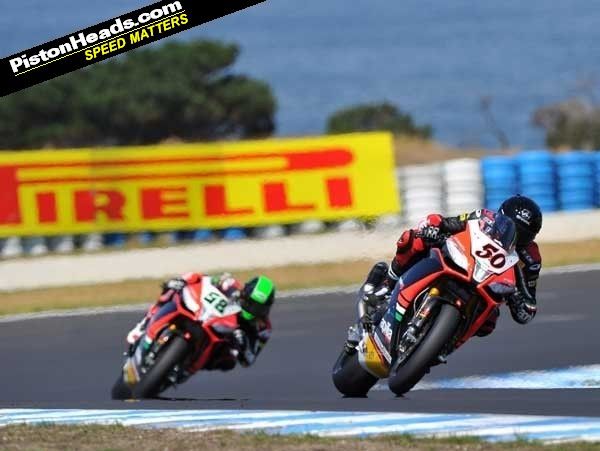 After a winter staring at re-runs of old races, it's time for some new track action! This weekend saw the first WSB race of the 2013 season at Phillip Island. With Max Biaggi retired (a move that has halved the average age of WSB riders) as well as a whole host of Brits on top bikes, 2013 could well see a Brit WSB champion for the first time since James Toseland in 2007.
There were many questions waiting to be answered when the Aussie flag dropped, however Carlos Checa silenced the critics by sticking the Ducati Panigale on pole in its first ever race. Amazing work by the Spaniard, maybe that monocoque chassis ain't that bad after all Valentino…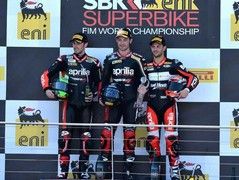 Guintoli took the honours in the first race...
With riders complaining of increased tyre wear and sketchy grip on the recently resurfaced track, race one was guaranteed to throw up a few surprises. Especially as the Pirelli tyres seemed to only last 15-17 laps, when the race was 22…
Off the line and anyone who has ever tried to quarter mile a Panigale will sympathise with Checa who lost his advantage after getting air under the front wheel. Eugene Laverty took full advantage and hit the front with Tom Sykes (just like last season) behind and a very fired-up looking Haslam in third.
In its first outing the Panigale was looking predictably fast but despite Checa breezing past Haslam on the start/finish straight, the Brit had more faith in the Honda's front end into the first turn. Where have we heard that before? Behind them Chaz Davies was busy showing why BMW snapped him up, leading his team mate Melandri in sixth spot, while Sykes (with a broken wrist) clung onto fifth and Rea and Camier battled for 10th.
Mid-race and the man on the move was Sylvain Guintoli, who slipped past Checa to take second place behind team mate Laverty, while Melandri looked to have woken up, overtaking Haslam for fourth spot. Then it all went wrong as Checa out-braked himself into the hairpin, taking out Melandri in the process.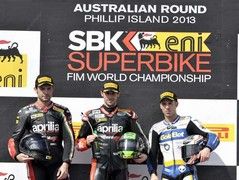 ...but it was Laverty's weekend
With such a gap opened up, the race was now effectively between the two Aprilias, with everyone else fighting for third spot. PH2 likes Guinters and who can begrudge him a win on his first race for the factory team? Well, apart from possibly the Suzuki WSB squad, who thought they had signed him for 2013…  An Aprilia one, two and three. Who would have thought it?
Race two and with Sykes taking the lead Guintoli decided to make it easier work this time by slotting into second. After a great first race it all went to pieces for Chaz in race two after being involved in a first lap incident with Kawasaki's Loris Baz while Haslam was having a nightmare of his own back 16th. A few laps in and it was once again an Aprilia factory team one-two with Guintoli leading Laverty and Melandri on his BMW in close attendance.
Half-race, and the three became four as Fabrizio joined the party. It was always going to come down to a last lap battle and sure enough, one to go and although Laverty led the way, Guintoli was on his heels. The Irishman hung on despite some determined riding from his teammate to make it another Aprilia one-two with BMW's Melandri ruining the Aprilia weekend lock-out.

---
Results:
Race one
1. Guintoli (Aprilia Racing Team)
2. Laverty (Aprilia Racing Team)
3. Fabrizio (Red Devils Roma)
Race two
1. Laverty (Aprilia Racing Team)
2. Guintoli (Aprilia Racing Team)
3. Melandri (BMW Motorrad Goldbet SBK)
Championship place
1: Laverty (Aprilia Racing Team)
2: Guintoli (Aprilia Racing Team)
3: Fabrizio (Red Devils Roma)
Brit watch (race one/race two)
Eugene Laverty (Red Devils Roma) – 2/1
Tom Sykes (Kawasaki Racing Team) – 5/5
Leon Camier (Fixi Crescent Suzuki) – 9/9
Leon Haslam (Pata Honda World Superbike) – 7/10
Jonathan Rea (Pata Honda World Superbike) – 8/8
Chaz Davies (BMW Motorrad Goldbet SBK) – 4/17