Looks like the
new Aston Martin concept due at Villa D'Este
won't be the only Zagato-styled coupe to see the light of day this summer - production of this, the South African-built Perana Z-one is underway as we write, and the car could make its UK debut at the Festival of Speed in early July.
The Zagato-styled Z-one (which made its debut at the Geneva show a couple of years ago) will be built in limited numbers (mind you, 999 are planned, so they're not all that 'limited') and, should you fancy one, Mole Valley Specialist Cars (go on, give them a Google) will be selling them in Blighty for a whisker under £70k.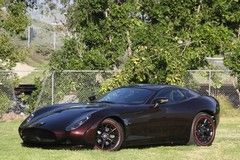 For that you get all the VAT included, and such GT-style niceties as air-con, a touch-screen infotainment and sat-nav system, bigger Brembo brakes than the standard offering, and optional Recaro seats. There is also, we are told, an extensive and expanding options list, so that final price is no doubt rather a fluid figure.
The really important bit, though, is the fact that for your money you also get a 442bhp 6.2-litre V8 (that'd be an LS3 GM motor, then) coupled to a six-speed manual gearbox and a ZF limited-slip differential. That should be enough, reckons Perana, to wallop 60mph in less than 4.0secs.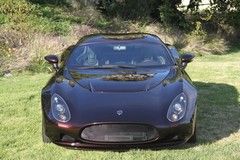 That's a lot of pace to deal with, but the knowledge that a certain Mr Lee Noble had a hand in the chassis set-up should provide more than a modicum of reassurance.
It all sounds quite juicy to us, but it's a bit of a shame that this new Perana has nothing to do with the company that famously and hilariously plonked large V8s under the bonnets of Capris in the early 1970s. Mind you, Hi-Tech automotive, the company that is building the Z-one has its fair share of performance car cred, as it builds superb GT40 and Shelby Daytona replicas for US marque Superformance.
General Data
Curb Weight - (2631 lbs) 1195 kg
Weight Distribution - Front: 50%
Rear: 50%
Wheelbase - (100") 2540 mm
Track - Front: (64") 1627 mm
- Rear: (62") 1570 mm
Length - (173.5") 4406 mm
Height - (48.5") 1233 mm
Width - (75.75") 1924 mm
Accommodation
Seating Capacity - 2
Head Room - (39.5") 1005mm
Leg Room - (43.3") 1100mm
Seat Travel - (8.3") 210mm
Engine
Configuration - V8, All Aluminium
Displacement - (376 cu in.) 6200 cc
Power - (442 hp) 330 kW
Torque - (430 lb-ft) 583 Nm
Max. rpm - 6600 rpm
Fuel Delivery - Fuel Injection. Electronic, Sequential Port
Compression Ratio - 10.7: 1
Drive train
Gearbox - 6 speed manual

Gear Ratio Max. Speed (rpm)
1st 2.66:1 89 km/h (6500rpm)
2nd 1.78:1 133 km/h (6500rpm)
3rd 1.3:1 182 km/h (6500rpm)
4th 1:1 236km/h (6500rpm)
5th 0.79:1 299km/h (6500rpm)
6th 0.63:1 299km/h (5500rpm)

Differential - ZF Limited Slip
Wheels
Perana / Zagato - Front: 18 x 10J
- Rear: 19 x 12J
Tyres
Michelin PS2 - Front: 275/35 ZR18
- Rear: 345/30 ZR19
Chassis
Layout - Front/Mid Engine
Rear Drive
Frame - Steel Tube Space Frame
Body - Vinyl-Ester Composite
Brakes - Front: (12.8") 325mm
2-piston sliding calipers
Rear: (12.0") 305mm
1-piston sliding calipers
Assist type - Vacuum
Steering - ZF Power Assist
Suspension - Front: Unequal Length A-arms, Eibach springs,
Bilstein shocks, Anti-roll bar
Rear: Unequal length A-arms, Eibach springs,
Bilstein shocks, Anti-roll bar
Fuel Capacity - (22.5 gal) 85 litre
Performance
Power/weight ratio - (328 hp/tonne) 240 kW/tonne
0 - 100km/h - sub 4 secs. (Estimated)
0 - 160km/h - sub 10 secs. (Estimated)
Braking - 38m from 100km/h (Estimated)