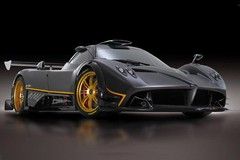 A Pagani Zonda R has this morning set a new Nurburgring Nordschleife lap record, completing the 13-mile circuit in 6mins 47secs.
The previous record for a 'road-based car' was 6mins 58secs, set as recently as April by the Ferrari 599XX.
With just fifteen examples of the 1.5 million-euro track car being built, the Zonda R is one of the most extreme and exclusive Italian supercars ever. It weighs just 1070kg, and its 6.0-litre competition-derived V12 develops 740bhp and 524lb ft of torque.
That's enough to propel it to 62mph in less than 2.7secs and on to 218mph. And a very quick Nurburgring time...