Most of what makes the Caterham Seven so beguiling is revealed within the first mile, the first few metres perhaps: steering that's hardwired to your thoughts, the fantastic manual shift, the immediacy of every single input. However, it doesn't take long to discover what can be fairly intimidating about them either. There's the vulnerability from being sat so low for starters; in a grey car on a grey February day, sidelights are advisable at all times. The noise never, ever subsides either; not just with an engine shrieking to 8,000rpm, but the clonks of the diff, the howl of the wind and the drone of passing traffic too. That's after a prolonged battle with the harnesses.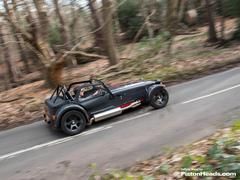 Seven defines 'sat on the rear axle'...
But that will be familiar from so many Caterham reviews, where the accessibility and involvement of Sevens typically win over the most ardent critic. What there won't have been mention of previously is just how a 600kg Caterham feels with over 300hp...
A quick reminder of the 620S before we get to that. It's pitched as the more accommodating (all things being relative) 620R, using the same supercharged Duratec but allied to a five-speed manual rather than a six-speed sequential. It's built on the wider S5 chassis too, with a few more luxuries. Like a windscreen.
It's impossible to focus on any of that though - heated seats included - when you reach the first clear bit of road. Even with just a few hundred metres and an exploratory flex of your big toe, the 620 is rapid enough to have you laughing maniacally and craving another hit. All Caterhams feel fast because they're so exposed; some of them genuinely are pretty quick as 200hp is approached or exceeded. Combine the immersion of a Seven with 314hp and the result is something that must only lose out to hypercars in terms of pure accelerative ferocity.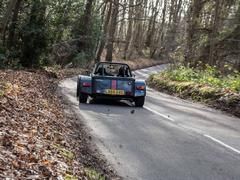 Look, a fast car that fits on small British roads!
It's a way more intoxicating, vivid experience than something like a 911 Turbo because you're managing the launch and the gearchanges. But going just as fast. As confidence builds you begin using more throttle and more revs, the speed always building to a crescendo somewhere beyond 7,500rpm that's just staggering. Even with a third gear that extends comfortably into three figures (so we're told), there is no sense of the savagery easing off. First and second disappear almost as quickly as you can say them and third doesn't take long either. Caterham claims a 0-62mph time of 3.4 seconds, which feels conservative; it must be capable of beating that on the right surface, and seven seconds to 100mph feels eminently achievable. It's bombastically, terrifically, breathtakingly fast. Wow.
Now 515hp per tonne should never be described as approachable, but in a Seven it's so much more exploitable than you might think. Of course you have to build up to using bigger throttle inputs, particularly on bumpy roads, but the joy of all Sevens is equally valid here: because it tells the driver so much, you have that much more faith in the car's behaviour. With that power it would be daft to call it vice-free, but the 620 behaves so intuitively that confidence builds in it remarkably quickly. Use too much throttle and the wheels will spin, messages about which will have reached your (heated) bum almost before it's happened. An instinctive correction on the tiny wheel with a slight lift sorts it out and you're away again. Corner too fast and the wheel will lighten as it understeers. Brake too hard and you can see which wheel is locking. Of course the Caterham has the ability to bite, but so detailed is the feedback that nothing ever comes as a surprise.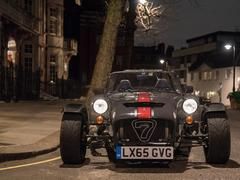 Making a racket in Mayfair
Moreover, with the additional torque of the supercharged engine, the 620S can be driven in a different style to regular Sevens if you wish. The Avon ZZR tyres have incredible traction given they're just 195-section, but there's the ability to work their lateral limits comfortably in second or third at low speeds. The way it demands everything of the driver at all times is immensely rewarding, right down to remembering if you've left the indicators on.
What you won't forget about leaving on is the heated seats. The first setting is pleasant and helps convince the mind that you might feasibly be warm. The hottest setting feels like it might leave you branded, but then it wouldn't be Caterham if it wasn't painfully intense, right? On a frosty evening with the roof down, that setting occasionally made sense. Overall though the seats are a welcome addition to the Seven, leaving the only cold parts of your body those on the right hand side...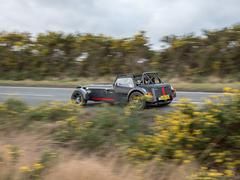 With space the Seven's speed is mind blowing
Finally, it's worth stressing again just how overwhelmingly positive the public reaction to a Caterham is. To drive something so fast and loud that elicits this many points, waves and thumbs up from random members of the public is a huge privilege, proof that people really do still like cars. Cruising around London for these night shots we have impromptu conversations with all sorts of people. It makes you happy to be in a car that makes others smile.
Truth be told, the 620S might be a bit much for the typical Seven customer. The joy of Caterhams is using a good chunk of the performance on UK roads a lot of the time. In this one you're always conscious of just how far the speedo has been catapulted round the dial now, worrying that the red change up light probably means a lot of trouble. On a circuit it would surely be fantastic, massively fast and hilarious fun too. For all but the most committed driver, something like a 360R would suit perfectly. If you must have (and can afford) a 620S, it's easily as wild and thrilling as you would hope. Just don't forget the ear plugs!
---
CATERHAM SEVEN 620S
Engine: 1,999cc, supercharged four-cylinder
Transmission: 5-speed manual, rear-wheel drive
Power (hp): 314@7,700rpm
Torque (lb ft): 219@7,350rpm
0-60mph: 3.44secs
Top speed: 145mph
Weight: 610kg
MPG: N/A
CO2: N/A
Price: £44,995