Carbon fibre bonnet, front wings, doors. Carbon fibre front splitter. Carbon fibre rear diffuser. Carbon-ceramic brakes. Carbon fibre propshaft. Dammit, even carbon fibre door pulls. How much more 'carbon' can you make the Aston Martin DBS?
By calling it Carbon Edition and giving it carbon fibre door mirrors and rear lens inlay panels, a carbon weave centre console finish and 'Carbon' kickplates, that's how. Carbon count: through the roof (oddly, not carbon).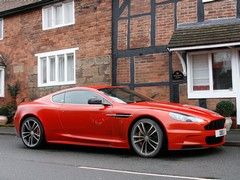 Orange paint or not the DBS turns heads
There's more to it than just carbon weighting, fortunately. Complementing a black grille and high-gloss diamond-turned alloys is a choice of three colours - Flame Orange, Ceramic Grey or (cough) Carbon Black - that come with an extra diamond-crisp finish: the seven-coat paint job is given a 25-hour hand polish, resulting in unbelievable lustre and gloss. Bizarrely you can, if you wish, then eradicate the benefits of this by choosing satin finish paintwork, the first time it's been offered on an Aston.
Guessed the theme yet?
Meanwhile, within, more choice is offered by the interior leather - black or orange (not as horrendous as it sounds) - while there's now a quilted rooflining for upmarket effect. Major changes? Well, no. And although all this makes the Carbon Edition (the follow-up to an earlier Carbon Black model) sound like one half of hot air, it's actually quite a sensible approach for Aston to take, as I'll argue in a bit.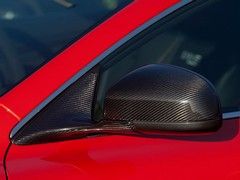 There's no escaping the stuff
But first, the car. If you know the DBS, introduced in 2007 and enhanced with the much-needed Touchtronic 2 auto a year later, you'll know the Carbon Edition. This gets the transaxle auto as standard but there are no mechanical changes whatsoever: even the Zircotec-tipped exhaust tailpipes are fed from a standard system.
The Cologne-built V12 still produces 510hp, giving 0-60mph in 4.3 seconds and, as an auto, a top speed capped to 183mph. The gearbox, supplied by ZF, has six ratios and a Sport mode that sharpens shifts and gives blipped downshifts. Fixed magnesium steering wheel paddles (with, you guessed it, carbon fibre stick-on panels) apart, it's an able transmission that's preferable to the meaty manual.
Heart of the matter
As you'd expect, the engine sounds wonderful. It's a V12 oozing in creamy, woofling mannerisms and mechanical overlay, with a complex bark further up that's like a classic car soundtrack replayed through a surround sound stereo. The bellow it makes from outside is thunderous.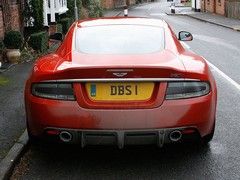 Stand here for the best sound effect
A bypass air intake port opens at 5,500rpm to make the engine wail, and boy, will it frequently be doing so: torque is a relatively meagre 420lb ft that, more significantly, is not produced until 5,750rpm. Peak power punches out at 6,500rpm. It may be unfashionably upsized but you still have to work this big brute of an engine.
The familiar Vertical-Horizontal chassis is, as we well know, up to this. Enhanced by Aston's Adaptive Damping System, years of development give a more optimal state of tune than ever, meaning the DBS is a peach to drive. Less so in normal mode, mind: it's a little lacking in focus to realise the best we know VH can offer. It's fine, but not as good as it can be.
Easily fixed: press the glass button with the suspension damper on. This engages a more focused 'Track' setting, which firms everything up, makes the DBS turn in and change direction with unexpected vim. Basically it makes it the taut, easy-thread V12 you hope for.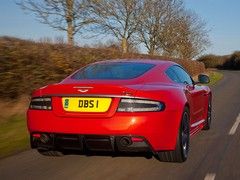 DBS shows its class on bumpy B-roads
85 per cent of the VH's weight is positioned within its wheelbase, undoubtedly a big reason why this large 1.9-metre wide and 4.7-metre long V12 GT supercar can feel almost as wieldy as a roadster. You can't physically overcome its width but it also never hinders you once you've dialled in to the Sport-optimised chassis.
A very British ride undoubtedly helps here. The Aston is firm, particularly in Sport, but it is also very well damped and 'breathes' across gritty B-roads. Undulations don't faze it, pimply surfaces don't jitter it or knock it off course: stoic composure is maintained by the suspension soaking up all the drama with aplomb. How very, err, British.
Only the steering may disappoint. It's firm and assured, yes, but there's not the subtlety you get from, say, a 997 Porsche 911 or Jaguar XKR-S. There's just a bit too much softness about the straight-ahead and, while direct, it doesn't quite have the bite you'd wish for.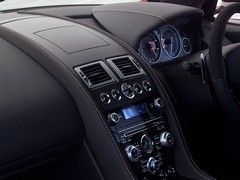 Not too shabby in here either
So, that's the DBS Carbon Edition: a DBS, with added, err, lustre. And here's the deal: everyone loves Aston Martin. Heads turn through respect, not envy. This Carbon Edition simply makes a nice car even nicer. The paint means it's even nicer to look at, the interior makes it that bit nicer to sit within. It's all, y'know...
That the bits which have changed are the product of so many man-hours only adds to the feeling this is a bespoke car with charismatic ability that's simply been enhanced further in this latest incarnation. Carbon copy of what's gone before it may appear, but it's still somehow turned into a diamond.

---
ASTON MARTIN DBS CARBON EDITION
Engine: 5,935cc V12
Power (hp): 510 @ 6,500rpm
Torque (lb ft): 420 @ 5,750Rpm
0-62mph: 4.3 sec
Top speed: 183mph
Weight: 1,695kg
MPG: 18.2 (NEDC combined)
CO2: 367g/km
Price: £186,582