Ginetta G40R costs from £29,995 and offers 208bhp/tonne
Remember the days when a chap might drive his MGA roadster up to Oulton Park for the weekend, have a bit of a dice for silverware with a few like-minded club racers, then drive home with change from his student grant for a fish supper? If not, ask your granddad. Or maybe ask Lawrence Tomlinson.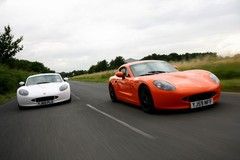 At a lean and limber 47, Ginetta's owner/driver is far from ready for a bed in one of the old folks homes that helped to make his fortune, but the slightly wistful historical reference at the new G40R's media drive debut hints at his old-school appreciation for things that ain't wot they used to be.
One of those things, as Lawrence points out in typically jocular fashion, was the not insignificant chance of said imaginary MGA driver missing the drive home from Oulton Park altogether, due to being dead or similarly inconvenienced. A risk that Ginetta's engineers have gone to decent lengths to minimise for customers of its new road-going racing car - the G40R.
That's because a full FIA-approved safety cage, made from laser-cut and TIG welded tubes, is the starting point for every G40 racer and thus also for its new sibling the G40R. They are essentially the same machine, the latter with lights and number plates. Oh, and a late substitution on the engine front because, instead of the racer's 1.8 litre, 150bhp Ford Zetec lump, the new road car has a zingy 1999cc 175bhp four lifted directly from the Mazda MX-5, along with its slick shifting six speed gearbox and differential. The Ginetta has a bespoke propshaft though, because at 3748mm nose-to-tail it's a tiny little thing. The latest MX-5 is 4020mm.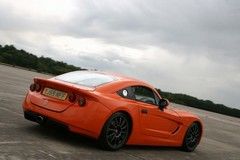 Styling is arresting and compact...
In spite of the G40R's diminutive size the safety cell should, the company suggests, impart a level of protection to occupants in 'worst case scenarios' above and beyond that which might be expected from certain rival products offering a racing car-type experience on the road. Especially those products first conceived in the late 1950s in Norfolk, one might infer, but that's just a premise for a jolly good argument. Life isn't all about safety, or the man upstairs would never have fashioned space for a driving seat on his first horse prototype. (Mule, shurly? Ed.) And Ginetta wouldn't be a racing car company.
Fortunately the G40R's compact yet muscular GRP body means it's pretty enough to sell on looks alone, I reckon. At least from a reasonable distance. Up close, and certainly from inside the cabin, you quickly understand the difference between a road-prepared purpose built racing car like this, and even the most extreme version of any mass-produced hot hatch you'll get to play with. The car's not painted for starters, the six-part body shell comes instead with a gelcoat colour finish, and the shutlines are... well, not too bad actually. The lightweight door linings feel flimsy, and there's exposed roll cage all over the place (although not in the roof where a trim panel is fitted), and there's none of that 'exposed structure equals art' approach espoused by the Ariel Atom.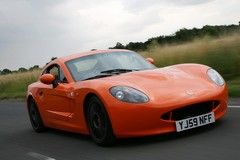 ...or you might just call it pretty.
On the plus side, there's a nice Alcantara-type covering over a full-width dashboard, a tidy central switch panel with a starter button and fully working air conditioning as an option. Except they're still, er, working on it...
Also on the plus side are Ginetta racing seats and steering wheel, a heated windscreen, and a 200 litre boot that we happen to know can accommodate a finely-proportioned (if reasonably compact) adult female. Why you might want to know this too, we can't imagine, except perhaps as reassurance that tent, luggage and beer can all be carried on your Le Mans trip next year. (That 'golf bag' thing is so boring, isn't it?)
So, the little G40R is already heaps of fun (in case you were wondering), and we haven't even fired it up yet. Press the starter and the grin will widen instantly as the four cylinder rumbles and rattles life into the machine. 'Noise, Vibration and Harshness'? Yep, we've got plenty. If you want to listen to birdsong on your cross-country jaunts, then buy the MX-5 and find out how a bit of sound-deadening and a few creature comforts can add 400kgs to the weight of a sports car. And how taking off the roof lets so many noises escape from the cabin....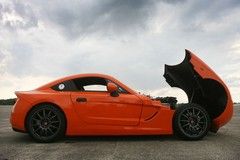 G40R body is moulded in six pieces
Many buyers with the necessary £29,995 to spend will have left PH's virtual showroom already, so those remaining presumably share a madcap urge to experience driving as a raw, elemental and visceral pleasure focused entirely inwards on the driver. The G40R could be the drug they're looking for.
It weighs 795kgs, giving it 208bhp/tonne, and the sort of performance that will easily take your mind off the cacophony of mechanical, wind and road noises that flood the cabin. When you're in the mood and setting the car at a B-road like a bull in a china shop, it's entirely intoxicating. Although that Le Mans trip - or any significant high-speed 'cruising' - will probably require a set of ear plugs. (The Ginetta engineers are mulling the possibility of adding a bit of sound deadening over the back axle, but once you go down that road, where do you stop? Best leave it, perhaps, as it's all part of this car's special 'USP'.)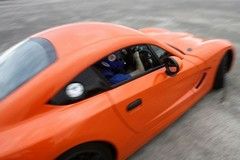 Cockpit is snug but accommodating
We tried the G40R first on Elvington Airfield near Ginetta's impressive factory/HQ, and the car is - unsurprisingly - a hoot on track, as well as on the Great British B-road. The lightweight chassis allows the engine to zing round to its 6700rpm peak power point with scintillating ease, accompanied by a macho rorty bark. The easy action of the six-speed gearbox encourages swift shifts up and down, the steering is direct and nimble without being twitchy. Basically the whole plot feels like it just wants the nuts thrashing off it, with the promise it will come right back for more. Bedroom number crunchers may not be overly impressed by a 5.8sec 0-60 time and a 140mph maximum these days, but they'll be missing the point. This is a car where power really does come with the responsibility for controlling it and, thanks to the insidious creep of digital control systems, that's already something beyond the experience of many.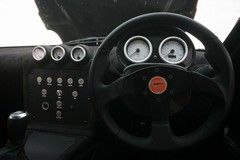 It's even got a dashboard
Indeed the opportunity to play with dampers, springs and geometry is all part of this car's proposition, so you can have a stiff track-focused weapon that will shake your fillings out, find a comfortable GT-style ride for your favourite B-road blat or anything in-between. In fact, it's easy enough to fiddle with these things in the paddock, so you can switch set-ups before and after those hot laps at Oulton.
But you'll probably leave it in the hardcore track set-up, I reckon. Because if you buy one of the 100 G40Rs that Ginetta hopes to sell each year, you're probably half way to certifiable already. And if you're not predisposed to occasional bouts of maniacal laughter, after this you will be.