Around a decade ago, SEAT's was one of the most extrovert hot hatch ranges around. Finished in eye-watering shades of lemon yellow, lime green or... er... orange orange, they left you in no doubt of what SEAT stood for: loud, proud Latin exuberance.
The product usually didn't disappoint, either. From the Ibiza GTI, which offered the chunky build of a Polo in an altogether more exciting package, to the Leon Cupra R, which was managed to be everything the Mk4 Golf GTI should have been, SEAT earned itself a reputation for producing good value, well built and genuinely exciting hot hatches with a bit of Mediterranean flair.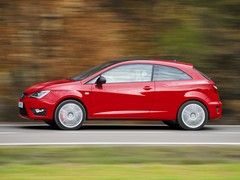 Latest Cupra looks good on paper
But today, Skoda's vRS range has encroached on SEAT's old stomping ground. It's there that many people are turning these days if they want a fast VW without the associated price. The new Octavia vRS looks like being better value than the upcoming Leon Cupra, much the same car under the skin. Meanwhile, the Fabia vRS is just as quick as the Ibiza Cupra, and costs a grand less. It even comes in yellow these days.
Up the creek
So where does that leave the Ibiza? Up the creek without a paddle, it would seem. Indeed, the latest iteration of the Cupra has struggled to capture the British public's imagination in the way previous generations have. So, with the aid of a mid-life facelift, can it still make a case for itself?
On styling alone, the answer is 'yes'. The tweaked front and rear bumpers with cleaner, sharper lines, new HID headlamps, and new 17" wheels result in a punchy-looking little car that feels more at ease with its slightly offbeat creases and chunky shoulders. A classic beauty it still ain't – but it's undoubtedly sporty and, refreshingly, looks more like a proper hatch than some of the current, mini-MPV-ish crop.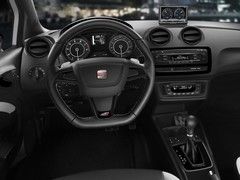 The engine and gearbox remain largely unchanged, so you'll still get a 1.4-litre twin-charged unit with 180hp and a seven-speed DSG for your cash. And it's here that things start to get tricky for the Cupra, as that gearbox has its flaws. It struggles to respond quickly enough under harder driving conditions, and even in manual mode it'll change gear for you when you reach the red line. But worst of all, our test car consistently failed to downshift when we asked it to, leaving us both having to brake harder to counter the lack of expected engine braking into a corner, as well as in too high a gear for the exit. Bung it in auto mode, and it's smooth and capable, but in manual mode, when you really want it to be involving, it can fall short.
Heart of the matter
Fortunately, the engine goes some way towards making up for the gearbox's pitfalls, providing a solid wall of torque no matter where you are in the rev range – ideal if the downshift hasn't happened and you do find yourself leaving the corner with 2,000rpm on the clock. 0-62 comes up in 6.9sec, and the Cupra maxes out at 142mph. It makes a great noise, too, with a hint of supercharger whine audible through a warbly, induction-heavy engine note. It might just be the best part of the car.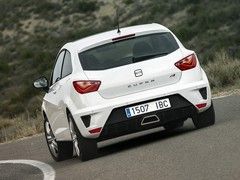 Chassis feels good; steering less so
The chassis, too, is excellent. Tweaks to the rear suspension have resulted in a mature, sure-footed feeling that's instantly engaging, and leaves you happy to throw the little Ibiza around. The XDS electronic diff system works well, providing plenty of front end grip, even if you hoof the throttle out of a sharp corner. The ESP can be a touch heavy-handed, though, and even with it 'off', still cuts in to prevent any sort of tail-out behaviour or throttle adjustability. Which is a shame, as beneath it all the chassis feels like it wants to entertain, with a sharp turn-in and plenty of feel - but before it can show you what it's truly capable of, the electro-nanny pops in to spoil the fun.
The steering, though, could be better – it's a touch on the light side, and while it provides just about enough feel to keep the Cupra involving, it does have a mushy quality that's slightly offputting at first. Bear with it, and you get used to it, but it still doesn't offer the same level of feedback as, say, a Ford or Renault hot hatch. 'Mushy' is a term that could be applied to the brake pedal feel, too; while a hefty stomp will stop the car, the squidginess on the way there isn't exactly confidence-inspiring.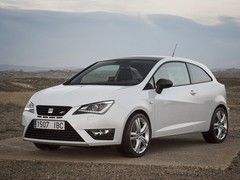 Ibiza looks good, but is that really enough?
It's not a bad car, this. Those who want some pace and some style, but aren't really hardcore edge of the, er, SEAT driving enthusiasts, will find it perfectly adequate. It's a very pleasant place to be, with great ride quality, a high-quality, tactile interior, and plenty of toys. What it isn't, however, is the next great driver's hot hatch. But the pity of it all is that beneath the layers of electronics, the Ibiza feels as though it has the makings of an excellent driver's car.
So, SEAT, what better way to show us some of that Latin tempestuousness than by ditching the acronyms and selling us a limited-run, cut-price, Cup-style version that's pared to the bone? Do that, and we suspect the Ibiza would suddenly find itself with a compelling raison d'etre. Until then, though, as pleasant as it is, it's hard to find a reason to choose the SEAT over the Skoda or VW equivalents when the former is cheaper, the latter will hold its value better, and both offer a very similar driving experience.

---
SEAT IBIZA CUPRA
Engine: 1,390cc 4-cyl, direct injection
Transmission: 7-speed dual-clutch auto, front-wheel drive
Power (hp): 180@6,200rpm
Torque (lb ft): 184@2,000rpm
0-62mph: 6.9sec
Top speed: 142mph
Weight: 1,259kg
MPG: 47.9mpg (combined)
CO2: 139g/km
Price: £18,570