There's something about a fast estate car that triggers a particularly powerful reflex in the part of the brain that craves both utility and speed. It doesn't matter that you're unlikely to ever attempt that old cliche about moving a wardrobe around at speed; the union of big carrying capacity and big horsepower remains a compelling one.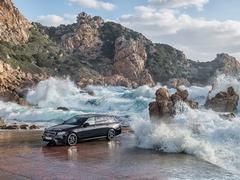 "Hang on mate, just one more shot."
Which is why we're delighted that Mercedes chose to unveil the new
wagon alongside its ultra-sensible diesel sister. As we'll have to wait until later this year to even see the E63 version, which will come with a correspondingly chunky price tag, there's a good chance that the lesser E43 actually represents the pick of the range, what with 401hp from its twin turbocharged 3.0-litre V6. With a claimed 4.7-second 0-62mph time and a limited 155mph you can justifiably ask what more, beyond a V8 soundtrack, the E63 is likely to offer. Like its bigger sister it will come with standard four-wheel drive too.
But we've also learned that Merc is developing an A6 Allroad-rivalling version of the E-Class estate as well, with chief engineer Michael Kelz telling us that it will feature both height-adjustable air suspension and some extra body protection that will allow for some mild off-roading. This looks set to be called the All Terrain - imaginative, huh - and should broaden Merc's appeal in the small but significant "I want an SUV but not actually an SUV" segment that the company has previously steered away from.
"It won't be as good as an SUV off-road, but it will be able to go further than most owners will expect," he said. Given that Merc already has six SUVs in its roster, it's certainly a welcome alternative to the company producing a seventh.