It's not often you slip into a new supercar with the gut feeling you are going to have to give it a bit of a kicking. But as I fire the 2013 iteration of the Lamborghini Gallardo into thunderous life there are demons.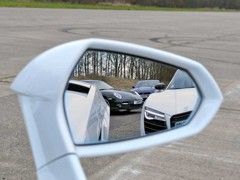 Objects in the rear view mirror may be closer, etc
The truth is, if you aren't moving forward, the chances are you're going backward. And the supercar game has moved on in leaps and bounds since the Gallardo first wowed the crowds a decade ago.
As discussed here recently, the Gallardo is, in truth, little changed since its debut. Then it was pitching up against the likes of the 996 Turbo and the Ferrari 360. Today, the landscape is beyond recognition. The 458 is quite simply one of the finest cars I have ever driven. Porsche, hardly renowned for pushing on with vehicle development, has replaced the 996 with the 997 and is readying the 991 Turbo for a likely debut at Frankfurt in September. Never mind the refreshed R8, the McLaren 12C and others.
Spot the difference
So what's new here, exactly? The introduction of 'triangular and trapezoidal forms - two shapes highly typical of Lamborghini design language' to the front and rear bumpers. New 19-inch wheels in matt black with a hint of bling. Larger air intakes ahead of the front wheels and a wider air outlet for the engine at the rear. That's pretty much it.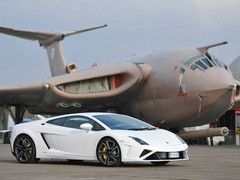 Bumpers and wheels the extent of the makeover
Mind you, the clean, stark lines of the Gallardo have always been a strong suit and it is testament to the fundamental rightness of the design that it looks fabulous and fresh.
Motive power still comes in the form of the 90-degree V10, which, with direct injection, churns out the 560hp that makes up half of the LP560-4's moniker. Good enough to hit 60 in around 3.5 seconds on the way to just the other side of 200mph. Still mighty numbers, whichever way you look at them.
Left of centre
There is one other aspect of the Lambo I love from the outset. The steering wheel, other than the horribly offset driving position that doesn't allow you to make proper use of it. The wheel, small, flat-bottomed and clad in grippy Alcantara, is a thing of minimalist beauty. There's no manettino, no stereo controls, no buttons or dials or levers at all. It feels perfect and pure and old-school in the very best sense of the term.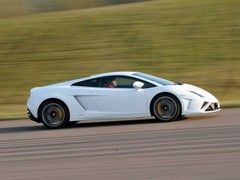 Still does the shock and awe thing
Lamborghini said that whatever we did with the car, we weren't to track test it or pitch it in to a group comparison. So I'm taking it to see a keen PHer and former Gallardo owner who we will call 'Chris'. Mostly because that's his name.
Chris is very busy but he does agree to let me meet up with him at work for a few minutes chat. So I punch in the co-ordinates on the sat-nav and point the Gallardo north.
Contortionist act
The drive there is enough to remember I am the wrong shape for a Gallardo. My head is wedged against the roof, there isn't enough legroom and this is exacerbated by the offset pedals. There is also time to realise just how ropey the E-Gear robotised manual now is in comparison with a modern twin-clutch system. The shift feels slow and head-snappingly abrupt unless you feather the throttle to smooth the changes.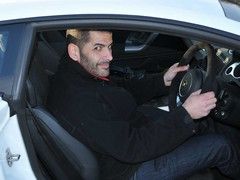 Our randomly selected former owner...
Mind you, a 10-mile stretch of dry, empty A-road is enough to forget these issues. The car is massively grippy, neutral with a hint of understeer in tight turns and as fast and loud as you could ever reasonably wish for. It feels delightfully compact, too, making it all the more exploitable on 'normal' roads. As I rock up to my rendezvous with Chris, I'm smiling.
Chris is, unashamedly, a Lambo fan. "I vividly remember getting my Gallardo - one of the first 20 or so in the country. I was about 27, I think, and I couldn't believe I was able to buy a Lamborghini for the same kind of money as a 360. I picked it up on Christmas eve, collected my 86-year-old aunt from London in it and then drove up country to join my family for the festivities." There is a wistful look on Chris's face that suggests it might just have been the Best. Christmas. Ever.
10 years on
"Thing is, it's 10 years old, so are we saying that it now has 'charm'? That's an OK term to attach to a person, but for a car isn't it just a euphemism for not very good? The driving experience is still exciting, but it is completely left behind by a 458. There is nothing, apart from the sound, that the 458 doesn't do better. In fact the Audi R8 does everything better - even the engine is more exciting in the new R8."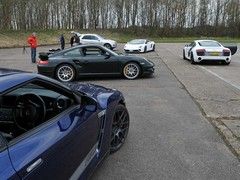 There just happened to be a few other cars around
And it is not just the present competition that has him worried for the junior bull. "They'll try to flog as many Gallardos as they can before people realise how outdated it has become - and people are still buying them. Mind you, there are reported to be car parks full of them at Sant'Agata and you can still buy a new Balboni - that was a 2009 special edition!"
And what of the idea of the 'entry level' Lambo? "I think it is a massive mistake to leave this marketplace but I think the truth is, that fantastic experience that I had buying and owning my Gallardo, Lamborghini is saying it's going to cost you £200K plus from now on. There will no longer be that more 'budget' access to this badge. What a shame that is. Brilliant though the R8 is, you drive an Audi. Saying that you have a Lamborghini, on the other hand, still has a certain cachet."
But, most successful Lamborghini or not, the truth is that it's fading rather than raging these days.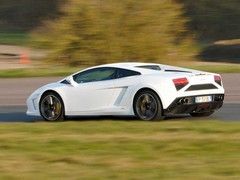 Twilight years or not it's still an 'event' car
On normal roads, versus normal cars, the Gallardo still has the ability and raw pace to leave you shaking your head in disbelief as it monsters a line of dawdlers or carves through a slippery S-bend with disdainful ease. It still creates a stir wherever it goes - heads turn, children point, people beg for a throttle blip as you pass. It is still a supercar. But...
There are inevitable keywords that present themselves. Charm, character, soul... The kind of words you search for when making an excuse for something you love very much but know, in your heart, that it just isn't quite good enough any more.
I simply don't find sciatica charming. Nor do I consider getting whiplash every time I shift gear characterful. I hope that within the bowels of Sant'Agata a new junior supercar is being readied. One that will have the same kind of impact as the Gallardo did back in 2003. In the meantime, I have about 150 miles to etch this experience into my grey matter. The view down the nose; the feel of that wonderful wheel between my fingers; the yowling majesty of that wonderful V10. Because although this is a 'new' Lamborghini, it feels like it might just represent the end of an era.

---
LAMBORGHINI GALLARDO LP560-4 (MY13)
Engine: 5,204cc V10
Transmission: 6-speed automated manual, four-wheel drive
Power: 560hp@8,000rpm
Torque: 398lb ft@6500rpm
0-62mph: 3.7 seconds
Top speed: 202mph
Weight: 1,410kg
MPG: 19.2
CO2: 351g/km
Price: £155,280