Commercially speaking, two-wheeled cars - or motorcycles with bodies on - have signally failed to set the world on fire. The Ecomobile is arguably the most successful of the genre, with continuous production over two decades from the Peraves factory in Switzerland, but the number built is tiny and it was never what you might call a looker. The Eco's successor, the Monotracer, is more contemporary in appearance, but its 1200 BMW bike engine and 14-gallon fuel tank are perhaps a little out of step with today's thinking. And neither of the Peraves machines ever fell into the budget category.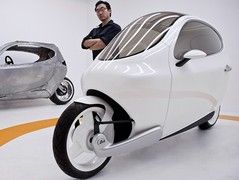 A range of 200 miles is claimed
San Francisco outfit Lit Motors is aiming to boot the enclosed bike into mass acceptability. The story goes that founder Danny Kim was nearly crushed by a Defender that was clearly angered by his attempts to make it run on bio-diesel. Seven years later, as a kind of protest against what he perceived as massive waste in the transport sector, Kim set up Lit with the stated aim of creating a new class in personal transportation.
Lit's first product, the C-1, is an all-electric machine with 20kW in-hub motors in each wheel promising 100+mph performance. Range has been quoted as up to 200 miles, with a four-six hour charge time. Control moment gyroscopes (or CMGs) consisting of a spinning rotor and motorised gimbals that tilt the rotor's angular momentum to provide 1300lb ft of balancing gyroscopic torque, enough (so the company says) to keep the machine upright when stationary, or even if it's been T-boned by a bigger vehicle. Real car features like a steel unibody chassis, airbags and premium audio add credibility to the C-1. The price: a projected $24,000 (£14,500) in the US.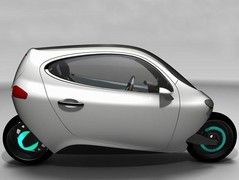 The idea's good, but when will see one?
So, when can you have one? Ah well, there's the rub. Officially, the Lit company line of first deliveries by late 2014 still stands, and (largely) refundable deposits against an unspecified number of the first 1000-vehicle first production run have been placed in escrow accounts with that in mind, but the company's failure to release a working prototype has generated some skeptical forum scuttlebutt about its ability to deliver on its deadline. The one thing in Lit's favour is that bikes don't have to go through the same costly and expensive safety certification programmes that cars do in the US.
We hope Kim makes it happen because, although gyro controlled two-wheeled cars are far from new - Wolseley's monstrous Gyrocar was built exactly 100 years ago - one that's both good-looking and vaguely affordable would be rather new. Not to mention a handy way of beating city traffic without getting wet.