In automotive circles, Tesla is often compared to Apple in its ability to transcend the usual press coverage given to cars. Certainly the mainstream media was on hand to greet the firm's all-new electric truck - and in return, Elon Musk supplied them a surprise worthy of Steve Jobs himself.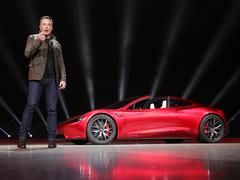 Completely unheralded in the build-up - and driven from the back of one of the Semi Trucks - was the next generation Roadster, a persuasively sleek four-seat EV that Tesla is already modestly describing as the 'quickest car in the world'. And while there are no specific output figures yet, the firm's quoted performance stats does rather take the breath away.
According to Tesla, the new model will crack 0-60mph in 1.9 seconds - and top 250mph flat out. By 4.2 seconds - the kind of time a Porsche 911 Carrera 4S takes to hit 60mph - the Roadster will be doing 100mph; nearly a second quicker than it took the Bugatti Veyron Super Sport when Autocar strapped a V-Box to it in 2011. The quoted standing quarter mile time is 8.8 seconds.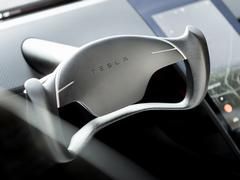 So it's fast then. But it promises to be whatever the electric car equivalent of frugal is, too. Tesla claims a range of 620 miles for the car - which is fairly staggering when you think that the EPA rates the Model P100D at about half that level. A 200kWh battery pack explains that, although it does make you wonder how much the all-wheel-drive Roadster weighs - especially as there's also a trick glass roof to stow away in the boot.
We'd expect it to be hefty; an adjective which naturally extends to the car's price tag. The base model will cost $200,000 - a launch edition 'Founder's Series', limited to 1000 examples - will be $250,000. It's $50,000 just to reserve one, and despite the much-publicized problems with the Model 3, expect buyers to be queuing up to do just that.