This is a proper bet the farm moment for Aston Martin. Launching a car with an all-new platform, an all-new engine and based on new electrical architecture from a brand-new partner offers the brand a huge opportunity to once again be at the front of the sports GT pack. But behind the big grins from boss Andy Palmer and his senior development team you can bet there are an awful lot of firmly crossed fingers. Because based on the way it looks alone expectations are going to be very high indeed.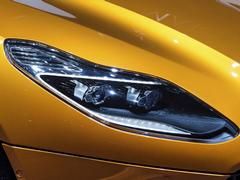 Described as the first model of the "second century plan" and "the most significant new Aston Martin since the introduction of the DB9 in 2003" for any other brand you might dismiss that as motor show grandstanding. Not in this case. The DB11 is a huge, huge car, pushing Aston Martin in new directions technically and stylistically.
OK, the overall proportions are familiar and it's still recognisably a traditional front-engined Aston Martin GT. But after that initial familiarity subsides and you start to take in the details you realise how big a step this is for the brand.
Those contrast roof rails will probably be the first thing you pick up on, the polished aluminium an applique trim piece offering all manner of customisation options and configurability for customers. High margin additional spend luxury brands depend on these days and a neat visual signature to draw a line between this and the cars that have gone before. There's some really clever stuff going on in the bodywork too, the enormous, front-hinged clamshell bonnet showing the influence of the Vulcan in the way it uses exaggerated side vents to extract air from the wheelarches via so-called 'Curlicue' vents. Detail extends to a rippled surface on the underside of the aluminium trim strakes to help speed this process up. At the back channels in the C-pillars draw air through the rear decklid and out through a special vent, creating a virtual wing Aston has trademarked as 'Aeroblade'. This can be further enhanced by a deployable Gurney flap that appears at speed.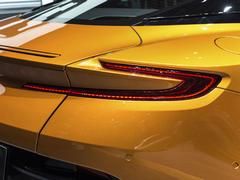 As a whole it's weirdly familiar yet challenging; the wheelbase 65mm longer and track widths up considerably with only a 28mm increase in total width. Overall it's 50mm longer than a DB9. When you first see it in the metal it's the kind of car you'll walk several laps of, deep in contemplation.
The basic mechanical layout of a V12 driving a transaxle-mounted version of ZF's familiar eight-speed automatic gearbox is similarly familiar. But the engine itself is all new and, against expectation, claimed as all Aston's own work. 5.2 litres, two turbos, 608hp and 516lb ft from the outset and a 200mph top speed are all impressive opening gambits. 0-62 is just 3.9 seconds but the real gains over the normally aspirated V12 in current Astons will be in the low- and mid-range torque. Whether this can be achieved without diluting the character is a nettle all sports car brands are having to grasp; we've heard it on tickover and from a sound point of view it's promising.
In the current style there are three driver modes to play with too, ranging from GT to Sport and Sport Plus. Adaptive dampers are familiar tech but there's more too, torque vectoring by braking working with a more traditional mechanical limited-slip differential to help make best use of that new turbocharged grunt. It's not a light car mind, the dry weight quoted as 1,770kg meaning you could be knocking on two tonnes fuelled up and ready to go. Leaner than possible rivals like the Mercedes-AMG S63 and S65 coupe and comfortably less than a Bentley Continental GT V8 S but still on the hefty side.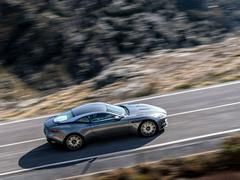 The change of approach is equally different on the interior too. The fancy hi-fi look introduced on the original Vanquish and trademark of early DB9s and Vantages has been completely overhauled. The whole car feels to have taken a decisive step towards the GT end of the spectrum, while seemingly maintaining the performance to mix it with more focused sports cars too. Quality of fixtures and fittings is a huge step on although the style is, perhaps, a little more conventional. The Mercedes touchpad is perhaps the most obvious manifestation of the shared parts, the large TFT instrument display and central screen all configurable and, again, showing a massive step forward in tech. And the rear seats are even half usable; big enough for kids and that emergency stuff-your-mates-in for the trip back from the pub. Not that you'll mind being designated driver.
Pricing has been confirmed as starting from £154,900 for UK buyers with deliveries starting in the autumn. We await the first drive with interest...