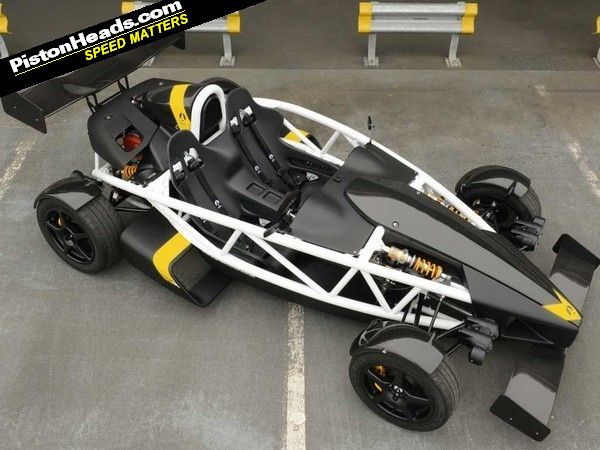 What does the
Ariel Atom 3.5
need? That's it, more power! Welcome then the Atom 3.5R, Ariel's 350hp update on the 3.5 featuring a paddle-shifted sequential gearbox, Ohlins dampers and ... bodywork. Sorry, 'new bodywork'.
The end result is something that looks more than a bit like the V8 when equipped with the optional side pods and fixed aero but has the best of the manic supercharged Honda-engined cars and a price with five rather than six digits before you reach a decimal point.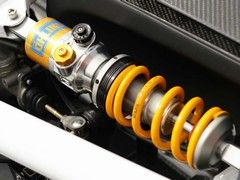 Lack of bodywork = chance to show off trick dampers
By raising the boost pressure from the supercharger from 7.5psi to 11psi power goes from 310hp to 350hp and torque from 229lb ft to 243lb ft. Noteworthy gains in any car, significant ones in one weighing just 550kg. Whether you'll be able to comprehend the two tenths slashed off the already incredible 2.7 seconds 0-60 of the regular 3.5 is another thing; six seconds dead to 100mph is borderline bonkers though.
The Sadev sequential gearbox is pneumatically operated and can, where conditions allow and if your fingers are quick enough, rattle through five downshifts in less than a second. Flat upshifts are also possible for fully appreciating that lunatic acceleration. Ohlins TTX36 dampers are also part of the standard package but from there Ariel offers a host of customisation options including road packs and the aforementioned side pods, which contain a charge cooler on one side and oil cooler on the other for sustained use on track.
"Our approach means that every car is completely individual, as are our customers, and no two cars are identical," says Ariel boss Simon Saunders in the accompanying press release. "By combining elements of the Atom V8 with the Honda engined cars we have increased customer choice and come up with a truly stunning car."
Sales start later in the year and pricing kicks off at £54,000 plus VAT; optioned as pictured you'll be looking at £69,756 plus VAT.
Click here to see the full spec.