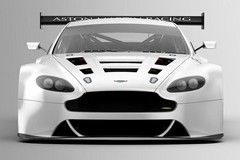 Here is the latest GT3 race car for the aspiring GT peddler who has become bored with Porsches - it's the new 2012 Aston Martin Vantage GT3. And it's surely a snip, too, with prices starting form a mere £298,000...
The Vantage GT3 will be the successor to the DBRS9, of which Aston sold 24 examples over the past six years.
Beneath the bonnet of the Vantage GT3 lies a modified version of Aston's 6.0-litre V12 engine (found in the DB9, Virage, DBS and V12 Vantage road cars).
In race trim Aston hopes that the dry-sumped engine will produce 600bhp and 516lb ft of torque. Meanwhile its position has been 'optimised' (we presume that means moved back and down) to improve weight balance. A carbon fibre propshaft couple the engine to an Xtrac 6-speed sequential transmission with semi-automatic paddle shift gear change.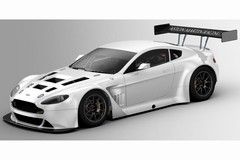 Of course, the biggest difference you'll notice between the V12 Vantage road car and its racing cousin is the aero package. Apparently, this contributes to a "muscular and purposeful stance while maintaining the overall beauty of the V12 Vantage", or so says the Aston press release. We'd hope that there is some physical aerodynamic package to the wings 'n' spoilers job, too...
So why the change to the Vantage over the DB9? Well, it seems that the shorter wheelbase and lower engine position over its predecessor makes it a better-handling proposition.
The Vantage GT3 will be eligible for numerous race series around the world including the FIA GT3 Championship, ADAC Masters, Nürburgring VLN, Blancpain Endurance Series, British GT, Belcar and Open GT. Testing will begin in October, with delivery of the first cars due in early 2012.