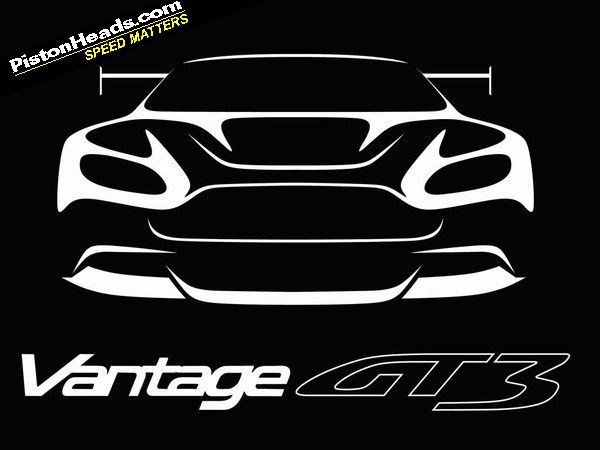 In one of those startling coincidences as the talk ramps up surrounding the forthcoming
Porsche 911 GT3 RS
, Aston Martin releases a teaser image and picture for something it describes as a Vantage GT3 road car.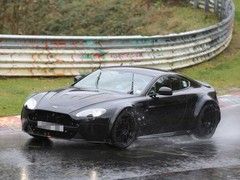 Wide-arched Vantage mule has been spotted
From the official graphic we can surmise that this is basically a road legal Vantage inspired by the various racing versions competed successfully at the N24, Le Mans and elsewhere. Which is to say a Vantage with what appears to be a proper eff-off rear wing. As eff-off as the GT3 RS's? We'll have to get the tape measures out at Geneva, where the Aston will make its official debut and, if it hasn't already, so will the Porsche.
Exciting times for lovers of extreme, track focused versions of already pretty serious sports cars. And if Aston is being cagey about the car officially it can't hide from the lenses of the 'ringside spy snappers, the illustrated widebodied (albeit wingless) Vantage spotted testing recently. Those arch extensions look suitably dramatic and, together with the V12's slatted bonnet, give the Vantage a seriously butch demeanour that should square up well to the engorged GT3 RS. Sources suggest more power, less weight and a limited production run of just 100, making it likely a much more exclusive proposition.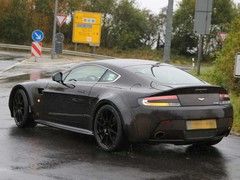 Expect a big rear wing for the production version
Given a 'regular'
V12 Vantage S
has 573hp you'd have to be hoping for at least 600hp from this beastie, that and the super aggressive looks making it a rather fearsome looking track day weapon. No word yet on transmission but we'd be surprised if it came with anything other than the paddle-shifted Sportshift III automated manual, this gearbox's rather industrial character and light weight rather in-keeping with the race car vibe.
More news when we have it.
Spy photos: Stefan Baldauf