Will Aston Martin get access to AMG technology via a Mercedes link-up? That's the tantalizing possibility thrown up after news stories over the weekend suggested that the owner of a 50 percent share in Aston wants to sell up.
All this chatter started after Reuters spoke to a source who said that Indian SUV and tractor maker Mahindra and Mahindra is competing with European turnaround specialists InvestIndustrial for the stake owned by Middle East fund Investment Dar.
The intriguing thing mentioned by the source was that InvestIndustrial was touting a link-up with Mercedes for the deal. You might remember that II owned Ducati before selling to Audi, during which time the Italian bike maker and AMG were thrust together in a sporting marketing push.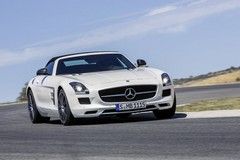 SLS: From competitor to stablemate?
Audi's purchase spoiled all that, but imagine what AMG and Aston could achieve together. Aston desperately needs a partner to allow it to build a replacement for its wonderful but increasingly long-in-the-tooth V12, among other tech investment.
Whether Merc and AMG would welcome a competitor for the SLS with similar running gear, we don't know. It would deal a blow to the hardcore fans to whom Aston's comparative independence, tech-wise at least, has always been a source of pride.
Anyway, we might be jumping the gun here. Aston told PH "it's not for sale", echoing what Investment Dar has said. And Mahindra and Mahindra (so good they named it twice) might win out, giving them bragging rights to a blue-blood UK automotive brand in the way that fellow Indian industrial firm Tata has Jaguar Land Rover.
Where the overlap would come in terms of its cheap and cheerful SUVs, we've no idea, but if you could afford it, wouldn't we all love to say we've owned Aston?