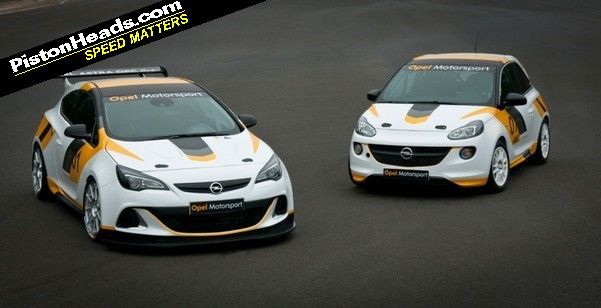 Vauxhall cousin Opel has announced that it'll produce a competition version of the Astra VXR (aka the OPC over there) and gosh, it isn't half a looker.
This doesn't quite herald a return to full-flight Touring Car racing that many will have been hoping for. There's no cash for that, but instead the Astra OPC Cup, as the new racer will be known, will be a customer car designed to take part in the VLN Endurance Championship.
It'll also compete in its own one-make series called the OPC Cup. The highlight of this series will be a 24-hour race at the Nurburgring.
While we won't see much of it in the UK, we thought it would be a dereliction of our duty if we didn't bring you a selection of pictures of this rather fantastic racer. And for anyone secretly hankering after Vauxhall's new Mini rival, the Adam, we've thrown in a few of Opel's other new motorsport entrant, the Adam Cup.
In this FIA-approved R2 rally form, it's gained at least a little of the aggression the standard car lacks and adds meat to Vauxhall's plans to build a VXR version.
Like the Astra, it's been designed to take part in a one-make domestic series, but this time it'll be on rally stages rather than tarmac tracks. We're hoping one, or both, of these cars will lay the path for Vauxhall/Opel to return to international level motorsport – after all, the days of Manta and Astra GTEs being used in competition still provide some vivid memories!