Thousands of people descending on an otherwise quiet corner of West Sussex does somewhat overwhelm the local telecommunications so we've had to wait until reaching home to bring you the story on the unveiling of the
. And this was a proper global debut, carried out with a pleasing mix of informality and enthusiasm by the Bentley top brass in blazing sunshine in front of Goodwood house. There are worse ways to launch a car...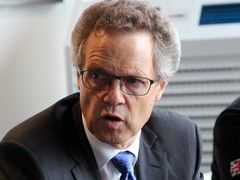 Durheimer seems fired up to be back at Bentley
Whatever VW group machinations resulted in Wolfgang Durheimer returning to the helm of Bentley after a two-year spell elsewhere in the business, he seems genuinely happy to be back and picking up on projects that he initiated and have now either come to fruition or are well on the way to doing so.
He cites the GT3 race programme as one example, describing the sight of the car overtaking the McLaren 12C GT3 in the closing stages of the Blancpain Endurance Series at Silverstone to take the win as an especially satisfying moment. Many of the Crewe workers had made the trip to cheer the car on and were justly chuffed to see a successful outcome to this battle between two very different British players. Will we see the Bentley Boys back at Le Mans and racing against Aston, Porsche and the other GTE competitors one day? He'd love it, if agreement can be reached that aligns GT3 and GTE regulations. He says agreement was tantalisingly close earlier this year; maybe some time in the future.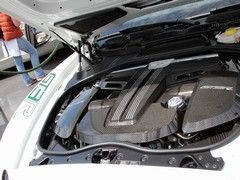 Carbon engine dressing one of few options
And, yes, he also mentions
. When he left it was a concept and a business plan. In his second day back at Bentley he drove the prototype, promising it will be a new superlative in terms of performance and luxury. Thankfully in this period he confirms the styling has been 'updated'.
Back to the GT3-R though. You'll have got the main messages - 100kg weight saving over the regular GT V8 S, lower gearing for faster acceleration, 580hp and retuned suspension - but at Goodwood we actually got to hear it, board member for engineering Rolf Frech all too happy to fire it up on the stand and give it some hearty blips. The titanium exhaust system has a properly savage note too, closer to that of the GT3 race car than the GT V8 S road car. They'll hear you coming, that's for sure.
Can you really have a track focused car that weighs more than two tonnes though? Sales and marketing boss Kevin Rose seems to think so, around 50 of the production run of 300 likely to go to UK buyers, the response from customers enthusiastic in the extreme and over half the allocation already accounted for before even this official unveiling. Rose says customer track events with driver training and the rest will feature; as unlikely as it sounds -R owners will be encouraged to get out there and live the GT3 dream.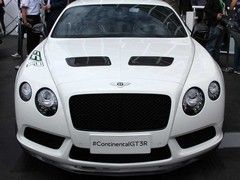 Just in case a regular Conti isn't imposing enough
Helping them do that is Bentley's first application of torque vectoring, working with a fixed 40:60 front to rear torque distribution and a brake actuated system rather than via active diffs. Still, the Bentley guys says it has a neutral to oversteer bias in keeping with the racy looks.
For sure, seeing a Bentley Continental triumph over a field of McLarens, Audi R8s, Nissan GT-Rs, Astons, Ferraris and more has obviously been a huge morale boost for the team behind the -R and gives the product the credibility it badly needed. A properly stripped back evocation of the race car this is not. As an amusing celebration of a somewhat incongruous but proven race winner it does, at least in the context of the Festival of Speed, make some sort of sense.