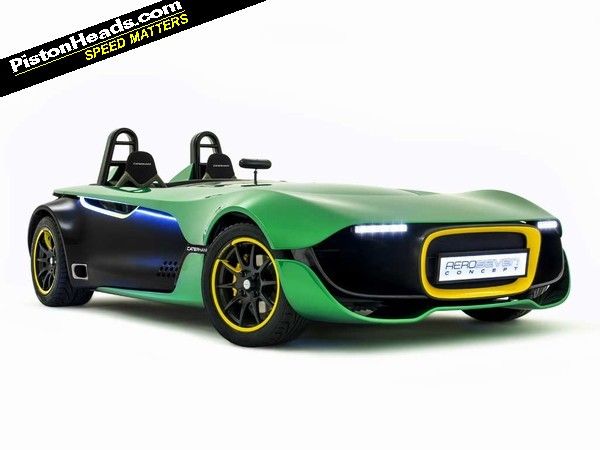 UPDATE:
Following leaked images of Caterham AeroSeven Concept's last night full details of the car have been released.
Based on the Seven CSR chassis and initially running the 240hp EU6 compliant Duratec-based 2.0-litre from the Seven 485 the AeroSeven "signals the brand's intentions in terms of product engineering processes, speed to market, as well as a hint to its styling direction for future models." This, Caterham is keen to point out, includes "the all-new sports car being developed in conjunction with Renault and due for release in early 2016." Production versions of the AeroSeven will go on sale in autumn 2014.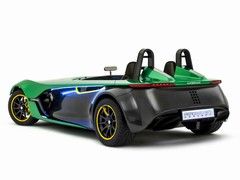 Based on CSR platform, clothed in carbon
The 'updated interpretation' of the CSR chassis means trick push-rod style independent suspension in a class above the classic Seven chassis and suitably fancy underpinnings to match carbon fibre bodywork. This takes the Seven into unfamiliar territory, otherwise known as a wind tunnel, and has used know-how from the F1 team in its design to improve aerodynamics and safety with a beefed up roll-over structure incorporated into the design.
The choice of 240hp, 8,500rpm 2.0-litre driving through a manual gearbox will give the AeroSeven a power to weight ratio of around 400hp per tonne, equating to an all-up weight of around 600kg. Caterham is keen to point out that this is just a start though and "project engineers will be assessing a number of powerplant options for the final production version."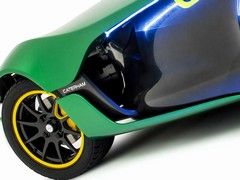 Beneath lurks 240hp motor from the Seven 485
Other features include Caterham's first traction control system, fully adjustable from a control on the steering wheel and incorporating a launch control function too. In a quirk underlining where the AeroSeven will be most at home the default setting will be Race, with a selectable Road setting with reduced power and rev limit. Caterham Technology and Innovation has also developed the graphical display unit (GDU) offering flashy 3D displays of speed, revs, fluid temperatures, brake and traction control settings and more.
And this is just the start. "Over the coming years, we will be expanding our range of sports cars as we look to meet the differing needs and desires of potential customers - from the lifestyle customer to the ultimate thrill-seeker," says Caterham boss Graham Macdonald. "The AeroSeven Concept is the first model in that journey."

---
Original story:
Pictures of the Caterham AeroSeven Concept have been leaked early ahead of an official unveiling at this weekend's Singapore Grand prix. We knew Caterham was planning to announce a new car at the race because, well, they'd told us already.
But now pictures of said car - described by us as a 'supercar' - have appeared ahead of a formal announcement. And, OK, we were probably a bit out with that prediction because the AeroSeven looks a bit more minimalist than a 458 or Gallardo.
Instead we've got a speedster look not entirely unlike the Vuhl 05 and (going by the sketches on the firm's website) Zenos E10 being built by former Caterham boss Ansar Ali and discussed in depth here on PH. Unlike those two the AeroSeven would appear to be front- rather than mid-engined, this and the name suggesting some manner of shared genetics with more traditional looking Sevens.
Just to be clear, the AeroSeven is an entirely separate development from the joint project Caterham is working on with Renault-Alpine and has been developed with "significant input from of all of Caterham Group's specialist business arms." This includes Caterham Technology and Innovation, Caterham Composites and Caterham F1 team. Meaning it's probably safe to assume carbon fibre will feature somewhere in its construction.
More on the AeroSeven when we have it.
[Sources: MotorAuthority]