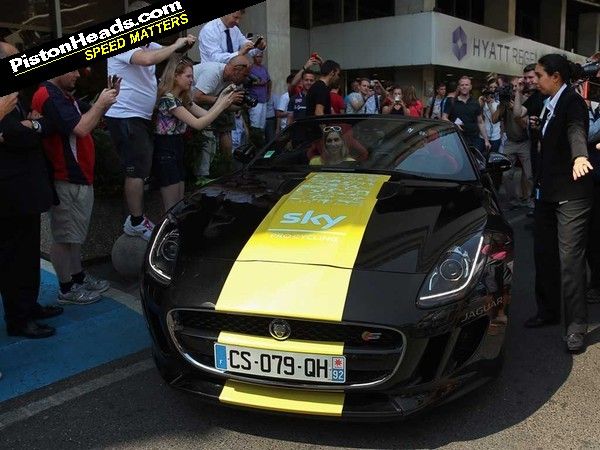 Tour de France winner Chris Froome's next ascent of Mont Ventoux in yellow may prove to be even faster and more exciting than his dominant win on stage 15 of
this year's Tour
. And a bit less sweaty. That's because Jaguar - whose mean looking
XF Sportbrakes
give Team Sky the edge over the Skoda dominated 'caravan' in the coolness stakes - has given him a celebratory
F-Type
liveried up with a special Tour winner's livery.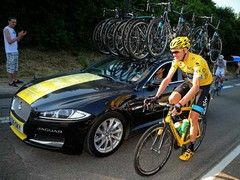 F-Type's small boot not an issue with team support
The V6 S (the
connoisseur's choice
!) has been wrapped in a specially adapted yellow and black version of the Team Sky livery and presented to him on his victory in this year's Tour. And, yes, keen pedallers though
some of us at PH may be
, the idea of ragging an F-Type up Ventoux does appeal more than riding a bike up it. And offers the seed of an idea. Hello, is that the Jaguar press office...?
Froome's customised F-Type should at least help him stand out in his Monaco home and sees him join a list of pro cyclists with an appetite for fast cars, including McLaren 12C owner Mark Cavendish (also customised in ... 'Cavendish Green', natch) and occasional Radical racer Chris Hoy. And should prove as entertaining in all those coastal tunnels as it will on the hairpins up into the mountains.
[Sources: McLaren, Tour de France official site]