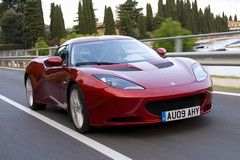 Just as the majority of child-owning families jet off on their summer hols, car rental company Hertz has added a gaggle of Lotus Evoras to its fleet, which are available at a rate of 250 euros a day.
So while the majority of vehicle hirers will no doubt make do with an asthmatic Fiat Punto or (shudder) a Chevrolet Matiz, those who find such machinery unpalatable can opt for something a little more gourmet form Hethel.
Following a successful test in Italy in 2010, the Evora is being rolled out across Europe as the first participant of Hertz's 'Adrenaline Range'.
Thus, holidaymakers arriving at France's Biarritz, Bordeaux, Marseilles, Nice and Paris Charles De Gaulle airports and Paris Porte Maillot, Germany's Frankfurt Rhein-Main and Munich airports, Italy's Rome Fiumicino and Milan Linate airports, Spain's Madrid and Barcelona airports and Madrid, Barcelona and Marbella downtown locations, and the UK's London Heathrow airport (and breathe) can all treat themselves to a spot of Lotus-fuelled fun.
And before your OH starts to complain, the Evoras are 2+2 models, so you can even squeeze the kids in...