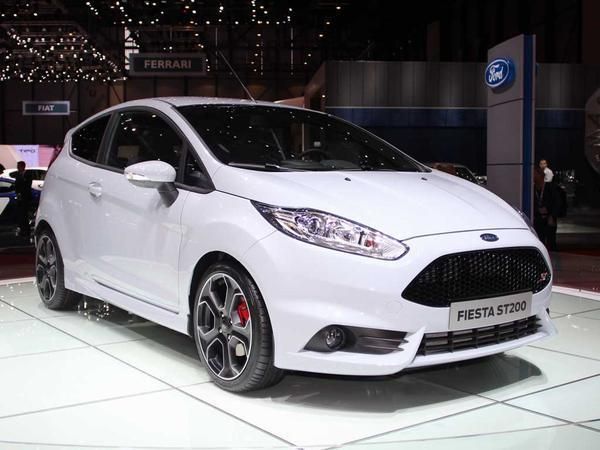 The Ford Fiesta ST has many endearing qualities, value for money certainly being one of them. That's been skewed slightly by the ST200 however, prices for which have now been confirmed.
You can read the full details on Ford's latest in the original news story below, but today's important info is the price: £22,745. That's £3,000 more than an ST-3 and a few hundred pounds above a 208 GTI by Peugeot Sport. It's also a grand more than the impressive Fiesta M-Sport Edition, which includes the Mountune kit, a Quaife limited-slip diff and some tasty rally-inspired trimmings. It's only five quid less than a Focus ST, in fact. The ST200 is available to order now, with the first cars arriving in June. But is it worth the extra over a standard ST? As ever, all thoughts are welcome!

---
ORIGINAL STORY, AS REPORTED 29/02/2016:
When fast Fords get a number attached to their name, they tend to be pretty special cars. Think Focus RS to RS500 and Sierra Cosworth to RS500 as examples. So there's some expectation riding on this Fiesta ST200, particularly given the standard set by the base car. That and the fact it's resurrecting a name from a largely forgotten (and quite good) V6 Mondeo.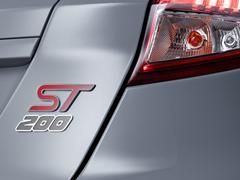 Just in case there wasn't enough grey!
Unfortunately, going off the spec, there's not a huge amount to be excited by. Now of course you can't judge a car solely by numbers, but arguably not as much has changed as many were expecting.
Every ST200 will be in the same colour combination, so tough luck if you don't like Storm Grey and black wheels. Also marking it out are red brake calipers, 'Charcoal' Recaro seats with silver stitching and illuminated scuff plates.
The mechanical changes are a little more interesting. You'll remember the standard Fiesta ST is sold as a 182hp car but with an overboost to 200hp whenever full throttle is used. The overboost remains for this car, claimed to boost power and torque by 15hp and 22lb ft respectively for 15 seconds every time full throttle is applied. That means peak figures of 215hp and 236lb ft, or exactly the same as a Mountune Fiesta ST... With a shorter final drive than the standard car - now 4.06 rather than 3.82 - Ford is claiming 0-62mph in 6.7 seconds (down from 6.9), a 143mph top speed (up from 137mph) and "an even more fun to drive experience".
Suspension and braking components are carried over unchanged from the standard ST; no bad thing given how that car handles, plus it hardly felt overawed by the Mountune upgrade with 'our' Fiesta.
So this fast Ford is definitely a car in the mould of the previous Fiesta ST500, rather than a preview of a Fiesta RS. We can but hope, right? Production of the ST200 will begin in June, with customer deliveries in the summer. Prices to follow soon. Looks like there's another Fiesta vs. Clio vs. 208 group test shaping up!
Watch the video here.