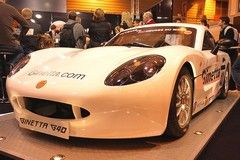 The new Ginetta G40 sports car - which for 2010 forms the basis of the popular Ginetta Junior race series - has been unveiled at the Autosport show.
Although Ginetta will build you a road-going G40, the new car is primarily aimed at aspiring racers, and is eligible for several race series. Most popular is the Ginetta Junior championship, which caters for 14-17 year-old drivers and forms part of the BTCC support package.
The new G40 effectively replaces the ageing G20 race car in Ginetta's line-up, and promises strong performance from its 150bhp 1.8-lire Ford Zetec powerplant. With a kerb weight of around 850kg, the rear-drive G40 should be capable of hitting 60mph in around 6.5secs, and of hitting 140mph flat out.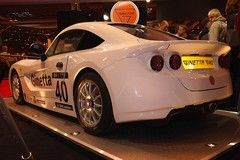 "The G40 is the most versatile road and race car on the market today - with safety features that exceed all FIA regulations," says Ginetta chairman Lawrence Tomlinson. "We have been completely overwhelmed by demand for the G40 and I just can't wait to see it out on the grid in its first Ginetta Junior race in April."
The G40 is available from £24,950, but the initial batch of 26 cars - destined for the Ginetta Junior racers - has already sold out, so you'll have to wait if you want one...
Pics: Alex Goy