While ogling Jaguar's production-ready
in the Goodwood sunshine, PH bumped into former evo figurehead Harry Metcalfe, who now works as a consultant for JLR Special Operations. This is one of the projects that's been keeping him busy - and it sounds like he's pleased with the result.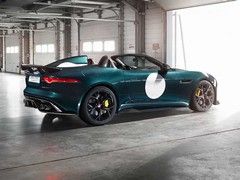 There's one headed for Harry's collection
So much so, he's actually bought one! "I've got my order in," he told us. Guess that's a perk of working for JLR's crack new special cars division, although it does also show how much belief he has in the new operation: he's literally putting his six-figure money where his mouth is by buying the first production-ready vehicle from the new division.
It's a crucial car to get right. "It's important that this car makes a statement", Harry told us - explaining that the SO division represents a modern form of specialism that's more advanced than the slightly 'route one' approach of, say, AMG. Most performance brands can only really do that - make fast, focused cars - and it's only now that they're trying to expand their portfolio.
"With Special Operations, we're starting out with a much broader reach - these days, you can't just be all about high performance." JLR Special Operations will thus be covering high-spec vehicles which will include high performance models, but also ultra-luxury models and limited-run collector's editions (like Project 7).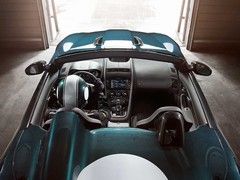 Scope of work goes beyond the norm says Metcalfe
In addition, it will take on truly bespoke commissions, offer heritage services including vehicle recreations (like the new
series) and produce a new range of branded goods. A genuine 150-strong standalone business unit, it will even get its own home in the West Midlands, at a to be confirmed location.
Harry's particularly excited about the SO leader JLR has headhunted - Paul Newsome (who'll work under MD John Edwards). He's the man that did the C-X75 but, more recently, has worked on Nissan's GT-R NISMO Nurburgring time attack car plus a whole host of other projects including Formula E. "Paul will make a huge difference here," said Harry. "He simply has a different way of thinking - he brings the F1 mentality of speed, precision and technological skill to the division." Indeed, this is how Special Operations has been able to produce Project 7 so quickly (it took just 12 months): the scale of what Jaguar's been able to do in such a short space of time backs up Harry's claim that Newsome brings something exciting to JLR SO.
But back to his own Project 7. Any plans? Well, it seems cross-continent European touring is on the agenda. "It's front-engined, has a decent boot (it's 196 litres...) - I love how usable it is." Indeed, stowable Bimini roof has required yet more bespoke engineering, and is more proof of SO's attention to detail, but is another reason why Project 7 appeals to customers such as Harry.
What colour though, Harry? "Ah, I'm not letting on just yet!"

---
Harry also told us he still checks out PH regularly and is keen to hear what the forums have to say about the Special Operations division and, in particular, the new F-Type Project 7. Over to you!