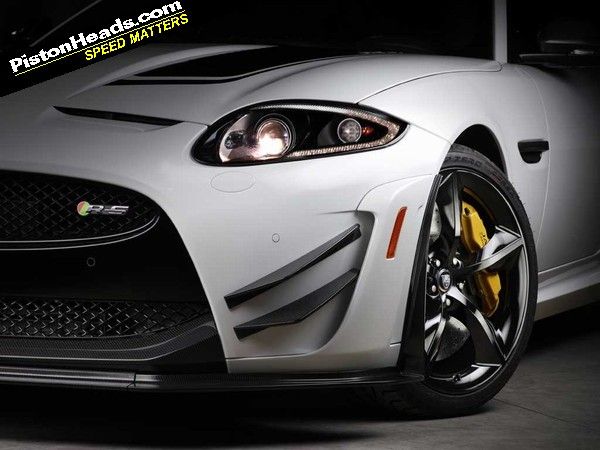 With
the F-Type
looming, Jaguar was going to have to do something to revive interest in the XK - and that something is right up our street. Namely, the XKR-S GT - a harder, faster
XKR-S
with track focused suspension settings, a load of carbon aero bits, bonnet vents and a really, really big wing.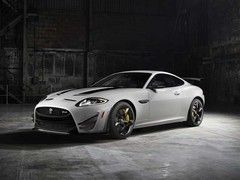 Want your XKR-S with real claws? GT provides...
Call us easily-pleased, but it presses the right buttons here. Jaguar's hoping it'll nail a sub-7:40 'ring lap once the weather clears up and they get a clear run. That's substantially quicker than a standard XKR-S, which has done a 7:51. A little way off the sub-7:30s of the
new 991 GT3
and GT-Rs of this world, mind - but a respectable effort for a grown-up GT car.
Changes over the regular XKR-S include revised suspension with much fiercer spring rates - +68 per cent front and +25 per cent rear - and an extra 52mm in the front track. Eibach supplies the hardware, complete with compensator springs, and the GT features Jaguar's first carbon ceramic discs, developed with Brembo. The F-Type returns the favour of the XK's donated hardware too, giving its faster steering rack and revised front suspension knuckles back to the older car. Engine and transmission are as per the standard XKR-S, the 550hp supercharged V8 and six-speed auto deemed 'adequate' and, we're told, the in-gear punch sufficient to make the expense of adding the F-Type's eight-speeder unneccessary. Wider 305-section Pirelli Corsa tyres (plus 10mm) help get the power down better though, trimming the 0-60mph from 4.2 seconds to 3.9.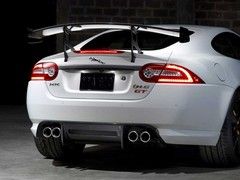 Not subtle but it does do 'proper aero' too
The carbon aero package obviously adds a bit of visual bling, but it's a properly functioning kit that develops 145kg of downforce at the car's limited 186mph VMax. The wider front wings are also carbon, necessary to accommodate that extra track.
Overall weight savings are minimal, with the carbon ceramic discs saving about 25kg in unsprung weight. The cars being built for the US market will ship with the standard every-which-way electric seats but UK cars - if there's enough demand for such a thing to be built - could be supplied with fixed racing seats, which would bring the overall weight saving to 75kg.
Ah yes, that UK supply. Currently Jaguar has committed to 30 cars, 25 for the US and five for Canada. Will they make any for the UK? Yes, if there's demand. So shout up if you're interested. You'll need around £130,000, which is asking quite a lot. But it looks like a whole load of fun and we'd wholeheartedly support anyone taking the plunge!
Update:
An earlier version of this story quoted the new price of the XKR-S GT as being around £175,000. That's thanks to some early misinformation; the car will in fact cost $175,000, which will equate to around £130,000 if it's sold in the UK.