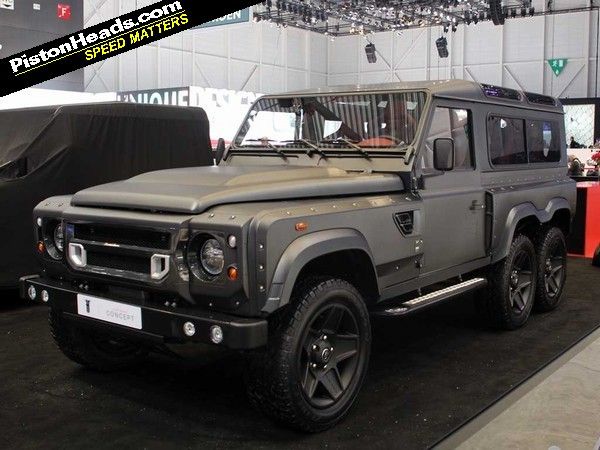 Kinda odd looking, isn't it? This is Kahn's rendering of its Flying Huntsman, the prototype of which will be shown at Geneva tomorrow afternoon. It is Kahn's view of a coachbuilt Defender concept and is, well, unique at least.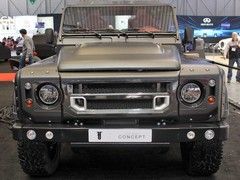 "Striking and aggressive" says Kahn
Six wheels isn't guaranteed yet though. Kahn says "up to five potential variants" are being discussed in a production schedule with four and six wheels considered. But this wouldn't be a motor show debut without a suitably daft concept, right?
Aside from the additional pair of wheels, the most obvious change is to the Defender's dimensions. The bonnet is 400mm longer, the rear cabin is extended by 800mm and the car is 150mm wider too. Bigger doors improve access while the styling is described as "striking and aggressive."
Under that dramatically elongated bonnet resides a 6.2-litre LS3 GM V8 with around 430hp and a six-speed auto. It isn't pitched as a road warrior though, Kahn maintaining the Flying Huntsman will be "built to tame the hardiest terrain" with upgraded suspension and brake parts on top of the usual Defender equipment.
For now that's all the info available on this latest Kahn creation. More from the Geneva show floor tomorrow.