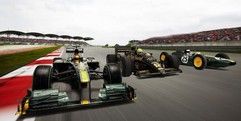 If you're suffering from motorsport-related withdrawal this weekend after last week's Le Mans, F1, Isle of Man TT and BTCC fest, then Lotus may have the perfect solution - the Classic Team Lotus festival this Sunday at Snetterton.
Examples of every F1 Lotus designed - that's 35 historic GP cars - are converging from around the world, to be together for the first time ever.
Hazel Chapman, widow of Lotus founder Colin Chapman, will open the Classic Team Lotus F1 Pavilion, which will displaythe historic Lotuses - though the majority of the F1 cars will also be demonstrated on track.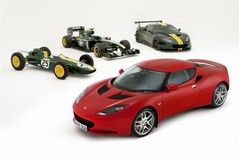 Current Lotus F1 drivers Jarno Trulli, Heikki Kovalainen and Fairuz Fauzy, as well as team boss Tony Fernandes, will be there too, with the two T127 2010 F1 challengers.
The T127 will be demonstrated on track, by special dispensation of the F1 governing body (as 'testing' is banned in F1) - this will be the first run for a current Lotus F1 car in Norfolk since 1994. After its demo, the Lotus F1 car will head straight off to the European GP at Valencia, which will mark Lotus's 500th Grand Prix.
Other highlights of the event include the full range of Lotus road cars, and two Lotus race series.